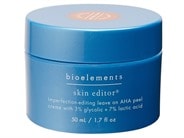 Reviews For
Bioelements Skin Editor
Great product
I started using Skin Editor daily about two weeks ago and I have noticed that my skin appears smoother and with less breakouts. It has a slight tingle when I put it on at night but that goes away when I put on my moisturizer afterwards. I really like the product and it will last quite a while because you don't need to use very much to cover your face. sammie5683
Verified Purchase
Wonderful Product
Bioelements skin editor is a great cream. I use at night as the final leave on product. My skin is amazing when I wake. Looks luminous and keeps your pores small. I have recommended to my friends!! LovelySkin Customer
Verified Purchase
Love!
The skin editor works wonders overnight for the skin!! Even skin tone, reduced redness, minimized pores, clearer skin! It smells slightly lemony which is pleasant however my husband complains about it when he kisses me. I think it's worth it:) LovelySkin Customer
Verified Purchase
Truly Edits your skin!
I use the skin editor in the evening under my sleepwear moisturizer. Keeps my skin smoother than without and gives it a nicer texture. Really like it! Excellent Product for Beginners
I incorporated Bioelements Skin Editor into my skincare routine as I was being introduced to AHA/BHAs. It has now become a regular part of my skincare regime. On the first few uses, the stinging was noticeable, but not overly irritating. Over time and consistent use, the stinging subsided and I wake up in the morning with fresh, bright, smooth skin! I use 3-4 times per week, on opposite nights of retinol or glycolic acid treatments, and I still look forward to putting this on every time. It has improved my overall tone, texture, and appearance of skin with consistent use, as well as calming areas of redness. 100% highly recommend! Love This Product! Better Than Any Exfoliating Scrub
I love this product! Better than any exfoliating scrub and doesn't strip my skin. I literally wake up with my skin feeling and LOOKING better. I used to struggle with acne and discoloration, but this product really fixed those problems for me. Highly recommend! Koosycat
Verified Purchase
Skin Editor
I have sensitive skin. So I apply the editor once, maybe twice a week. With that being said, I have noticed big changes so far in my skin. The complexion and clarity of my skin have been better than before. My skin feels very smooth the next morning! I'm loving this product! Cbritton
Verified Purchase
Great at home peel
I use this every night and do not have any issues with sensitivity. I am persistent on wearing sunscreen now though!! Jewelzzz
Verified Purchase
The best!
I have oily/sensitive skin and I use this every night. It helps my skin glow. It also helps with my occasional monthly zit(s). I love it! It does take a few weeks to get used to. You'll feel some tingling and a bit of redness but once you get used to it, it'll be fine!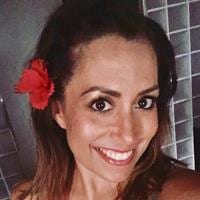 WhitneyAllen
Verified Purchase
Excellent
I wasn't sure want to see expect from this product. It has won me over. It seems to smooth the skin and prevent acne. I can feel a very slight sensation upon application. I love the texture. It's made a big difference in the texture and brightness of my skin Heymonica
Verified Purchase
Horrible Smelling Product!
Used this product twice and could not get past the strong smell to see if the product worked. LovelySkin Customer
Verified Purchase
Great Product!!
I'm so happy that I purchased this product! The Buffalo winters are so cold; plus, I battle with dry skin and eczema. It's impossible for me to find a product that works with these concerns especially in the winter months. I will say if I could give this product more stars on this review I would! This product worked within 2 days!! I couldn't believe it. I apply it before the Bioelements "Crucial" cream. I will admit my skin felt a slight stinging when first applying it which made me skeptical. I also use Retin -A so I wanted to try this product with patience. I love love love it!!! My skin is not only more hydrated but smooth in texture and youthful in appearance. "SKIN EDITOR" is definitely the product that will remain in my nightly skin care routine! LovelySkin Customer
Verified Purchase
A winner!
Hands down, this is an amazing product. I use it 7 nights a week. I started using every other night as I have sensitive skin and rosacea along with dryness in areas and worked up to daily. There is a slight tingle (to be expected) when first applying but no irritation for me. It was recommended to me when I had a facial, and I''m so glad! I feel it helps improve my skin barrier, and I like the exfoliating while I sleep. It's help my redness as well as my pore size and also my hydration. I top it with my pm moisturizer. Very, very pleased with this product! LovelySkin Customer
Verified Purchase
Can''t live without!
Started this product a couple months ago (using it approx 4 nights a week) and WOW! My skin is glowing, clear, and I could see the blackheads purge themselves. My pores are very tight (with some black and white heads) and I could never pop them; I know I shouldn't! But, this product has softened my pores and the debris comes right out. My fine lines look better and I love how my texture has improved!!! LOVE LOVE LOVE. LovelySkin Customer
Verified Purchase