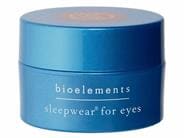 Reviews For
Bioelements Sleepwear for Eyes
THIS IS THE ONE!
If you are needing some extra moisture and nourishing for your eyes, then this is your jam. I saw results within 1 week of using it every night. My skin is really sensitive so if your skin is like mine and you cant just put anything on it, then I will say you should try this stuff. There is no harsh scent and its so easy to apply before bed. TRY IT! You wont be disappointed.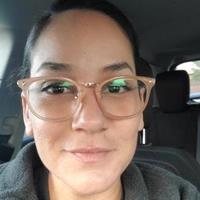 Felicia
Verified Purchase
So Far, So Good
Very hydrating. My dark circles and fine lines have improved with just a few weeks of use. LovelySkin Customer
Verified Purchase
Bioelements Sleepwear for Eyes
I really like this eye cream—helps with tiny wrinkles at the orbital bone and helps to smooth teeny surface lines. Both wrinkles and teeny lines are much less noticeable for me. My eyes look refreshed the morning after. It's a win! Excellent
Buying again, lovely lightweight eye wear. Not heavy just perfectly wonderful. LovelySkin Customer
Verified Purchase
Helps erase lines around eyes without irritation
It's always hard to switch eye creams but, in this case, I'm glad I did. This is a rich, luxurious cream that does help plump up wrinkles and lines without irritation. I prefer the tube packaging, so you don't have to worry about contamination, and it's a bit quicker to apply. The downside of tube packaging, especially with rich thick cream, is so much remains in the tube that you can't get out. I like LovelySkin's price point for this nice eye cream. Thank you, LovelySkin! LovelySkin Customer
Verified Purchase
Younger looking eyes
I have been using Sleepwear for eyes about three weeks. So far I am very pleased. I am 44 and for about the last ten years I wake with my eyelids drooping and looking tired. I wake up now with bright eyes and look wide awake. Very pleased with Sleepwear! LovelySkin Customer
Verified Purchase
reduces fine lines
This night cream for eyes is wonderful. I'm in my 60s and was seeing more and more wrinkles around my eyes. Since I started using this nightwear eye cream 2 years ago, I've noticed the skin around my eyes feels very supple and moisturized. I've also noticed the fine lines around my eyes have become fewer and less pronounced than before I started using this night cream. LovelySkin Customer
Verified Purchase
Wonderful eye cream
I have used this eye cream for years. I have very sensitive and aging eyes-this cream is awesome. I use this cream nightly. Thanks LovelySkin for carrying this brand. GREAT EYE CREAM
I was skeptical of this eye cream initially because of the affordability! I always thought to REALLY get an eye cream that delivers results, it had to be expensive. I've tried multiple eye creams over the years from La Mer to First Aid Beauty. Eye creams sometimes have a tendency to cause a minor red rash to develop on the corners of my eyes so I am very particular. This product is GREAT. I wake up with, literally, rejuvenated eyes each morning. No sensitivity issues. Very moisturizing. Have been using nightly for approx 1 month & started seeing results of lightened undereye area & a more general plump appearance after about 5 days. Will definitely repurchase!! LovelySkin Customer
Verified Purchase
Bioelements
I have loved all of the Bioelements products that I use. I have very sensitive skin and this product doesn't cause me any problems and gives great results. LovelySkin Customer
Verified Purchase
nice eye cream
This cream absorbs very well and the jar will last a while because it only takes a little bit. I use it night and day. My eyes are definitely more moisturized and I think the wrinkles are less obvious because of this. I would purchase this again. LovelySkin Customer
Verified Purchase
Perfect eye cream
Sleepwear for eyes is the best I have ever used! Love that it can be used on the the lids also. Perfect moisture level an d wonderful results LovelySkin Customer
Verified Purchase
Great product.
I use the sleepwear for eyes nightly. You can see a dramatic change in a matter of a week. LovelySkin Customer
Verified Purchase
New User
This is fabulous to use both day and night time! Thank you LovelySkin Customer
Verified Purchase
Love this moisture-rich eye cream!
I love an emollient rich eye cream. Although this is meant for night-time use, I also use it in the morning too. It really helps soften those crowsfeet. If you use it in the a.m. be sure to allow a little extra time for it to absorb prior to applying make-up. It doesn't take long, and it is well worth the extra effort. LovelySkin Customer
Verified Purchase