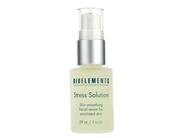 Reviews For
Bioelements Stress Solution
Great product
I use this after being outside working to calm the skin on my face. Feels wonderful. Catmom5
Verified Purchase
Great for sensitive skin
Goes on smooth and has a nice minty scent. I have sensitive skin and this does not irritate at all. Some products will make my eyes water just from the overwhelming scent or potency and this product has not done that. Highly recommend! So silky
Since using this product, my skin is no longer red. It is so silky smooth, and it smells so good. LovelySkin Customer
Verified Purchase
Definitely de-stresses skin
I am about to start my second bottle of Stress Solution, and I have found that it takes away redness from my cheeks. The consistency is similar to a foundation primer and makes my skin feel very smooth. I think it's a great base for Bioelements Crucial Moisture. LovelySkin Customer
Verified Purchase
Stress Solution
I love Bioelements and use the Crucial Moisturizer religiously. I am a fan of the Oxygen Cocktail and miss it terribly. It was perfect for my skin and I got the Stress Solution to try in its place when I saw that the other is discontinued. Although the Stress Solution is light, it seems to just "lay on top" of my skin and doesnt feel as though it is penetrating. I never get pimples and have gotten two since starting to use it about 10 days ago. Dont know if its the combination of it plus the Crucial Moisturizer but I will continue to try other Bioelement serums and see if I can find another that suits my skin better. Not saying its a bad product at all, just not the right one for me. Again - I LOVE Bioelements! LovelySkin Customer
Verified Purchase