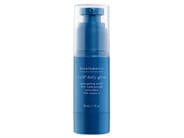 Reviews For
Bioelements VC10 Daily Glow Antioxidant Serum
VC 10
Love this! Seems to take be helping with dark spots. LCONOVER74
Verified Purchase
vc10 replacement for Advanced Mineral VitaMineral C Complex
I've been using Advanced Mineral VitaMineral C Complex for a few years and it's worked very well. I just started using the vc10 Daily Glow a couple of weeks ago as the Advance Mineral C Complex has been discontinued. It seems to work just as well as the Advanced Mineral C Complex but I miss the white creamy product. The vc10 product is brown and feels slimy rather than creamy. It has a tendency to make my skin feel a bit tackier than the original creamy version. I will continue to use it as the results are good - but I preferred the original Advanced Mineral VitaMineral C Complex as far as texture. hvOmaha
Verified Purchase
Very good!
I have been using it for a few months. It is very good. I only use it at night though. It doesn't give a lot of moisture to my skin so I have to put moisturizer (Sleepwear). It gives you the glow and skin looks pretty good! I would recommend it! Smells and feels SO refreshing!
This Vitamin C Daily Glow Antioxidant Serum is truly my favorite Bioelements product! Not only is it light and not greasy, it smells like a freshly peeled orange mixed with grapefruit. I love wearing this morning and night underneath my moisturizer. I wouldn't leave home without it! So nice! LovelySkin Customer
Verified Purchase