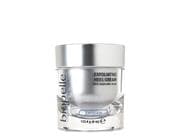 Reviews For
Biopelle Exfoliate Exfoliating Heel Cream
WOW
I was searching for something good to exfoliate for my super dry hands and decided to go with my favorite brand. Glad I did. Although its for heels but worked like magic for hands after just one use. I leave thin layer on the back of my hands for 15 mins and they turn to super smooth skin I haven't seen for years. LovelySkin Customer
Verified Purchase
Excellent Product
I actually bought this product for 2 purposes, to use on my feet and hands. I had an Aesthetician tell me when I asked her about a product to use on my hands that she uses this product. I was looking for a product to lightly exfoliate the top of my hands and this product is great for that. I absolutely love it! it works
I have only been using this for a few days, but already I have experienced major exfolliation on my heels. Now I'm eager to see what continued use brings. LovelySkin Customer
Verified Purchase