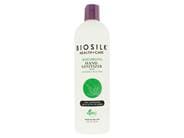 Reviews For
BioSilk By CHI Moisturizing Hand Sanitizer with Soothing Aloe Vera
$11.99
Good
Funky smell and not a fan of the residue feeling so knocked two stars, but it serves its purpose and I like the larger volume. LovelySkin Customer
Verified Purchase
Literally a life saver
NYC turned into a Lord-of-the-Flies situation when the COVID-19 lockdown started and it was impossible to find any hand sanitizer in my neighborhood or online. I was thrilled when Lovely Skin offered this product and I ended up sending some to my parents, too. The smell is somewhat bitter and unpleasant, but most hand sanitizers smell strange, it dissipates quickly, and it's better than nothing! Sometimes hand sanitizers from bigger brands will give me dermatitis but I didn't have any problems with this, which was a huge bonus. It does leave a slight film, which I'm guessing is due to the aloe, but it has been a life saver (quite literally). Thank you, Lovely Skin, for responding to the emergency and making this product available to your customers. It is the only hand sanitizer that I have been able to secure since March. Well done! LovelySkin Customer
Verified Purchase
Decent hand sanitizer
This hand sanitizer has an odd chemical smell coming out of the bottle, but once I've rubbed it on my hands and it's mostly evaporated my hands have a fresh, clean smell and they don't feel dried out. Overall I am happy with this purchase. The large size is a bonus as it'll last me quite a while. BrendaC
Verified Purchase
bioSilk hand sanitizer
Product is good. Strong Scent
We were really surprised by the smell of this product. It smells so much like tequila that we did not want to use it in our cars. I'm sure it's the ethanol alcohol, but it smells so bad that it is not even used now. We were really disappointed. LovelySkin Customer
Verified Purchase
A very good product
We all react differently to scent & texture, but in contrast to another review, I think this hand sanitizer is quite a good product. I found the slight scent to be inoffensive & the liquid easily absorbed with normal rubbing motions. I detected no stickiness at all. I would buy this again. LovelySkin Customer
Verified Purchase
Terrible
This is terrible. It is so sticky. I have washed my hands twice after using it trying to get the stickiness off. I don't like the smell either. And now my hands feel awful! I have never disliked a hand sanitizer before. This cannot be used. LovelySkin Customer
Verified Purchase