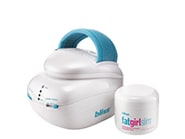 Reviews For
bliss FatGirlSlim Lean Machine
Well Worth $100
I purchased my first device a few years ago. Its great for smoothing the over all appearance especially before wearing a bathing suit in public. Ive noticed an overall improvement, but primarily it is great as part of your getting ready" routine. My only detraction is that the device loses suction after about a year. LovelySkin replaced my last one when it stopped working. Also! It took me a while to figure out the proper way to use it. I was suctioning in different spots and really you should lube the thigh and then once you have suction move the device along the area for a gentle kind of kneading. Pro-tip: I also found that this device was great for massaging my abdominal scar after a myomectomy. This reduces the tension of the scar and makes it less noticable. Note that if you have severe cellulite this is not a cure-all. This works nicely for light dimpling and an overall smoother appearance. Keep in mind that other home devices can cost $1500. LovelySkin Customer
Verified Purchase
Dont waste your money
I really wanted this to work. I read several mixed reviews about this and thought I would try it. Let me tell you dont waste your time or money. It doesnt work. I was using it on my thighs and because of the weird shape it doesnt suction to all parts of your thigh. I noticed my veins were starting to show where the suction was working. I was very lucky Lovely Skin let me return this or I really would have been upset to lose over a hundred dollars. LovelySkin Customer
Verified Purchase
A Big Waste
I had high hopes for a company who typically has high quality items and products. This quite frankly is a waste of money and time. I am slender but not skinny. I have thighs that are in good shape and the skin is not lax or saggy. I attempted to use on the saddlebag area and even on the strongest level didn't feel a thing. On the front of the thighs couldn't get any suction.If you have lax skin, or are not toned, this may work. Otherwise, if you are in good shape and looking for help on the cellulite, i would pass. LovelySkin Customer
Verified Purchase