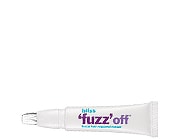 Reviews For
bliss 'Fuzz' Off
Fuzz Off
I am new to this product, but impressed. I have tried many facial hair removal products, but none have been as effective, easy to use and pain free! I have sensitive skin and didn't react to treatment, but I did remove after 3 minutes. All the hair on the lip area that was treated just wiped off. I ordered my second tube.... It is a pain free solution to unwanted facial hair. I highly recommend! LovelySkin Customer
Verified Purchase
Not sure yet!
Waited almost 2 months for this product to arrive because it was out of stock. I used it once and it caused some irritation and redness. It did remove all of the hair above lip and the regrowth is slower than other products I've used. I will keep using but not sure if I will reorder. LovelySkin Customer
Verified Purchase
Watch your timing!
Ive used this product before and had no issues. But yesterday I used it and had a major reaction:-) My skin is burned, red, and inflamed. I will say that I could have left it on for too long...maybe. I will do a patch test again to make sure last nights incident was a fluke because before when I used the Bliss "Fuzz Off" it worked very well. Fingers crossed. Point is: Do the patch test and Watch your time! LovelySkin Customer
Verified Purchase
LOVE
I love this product for removing those unwanted hairs around the lip area. I have very sensitive skin and while I swear by having your brows done by a professional, waxing the lip is something I no longer have to suffer through! This works in 3 quick minutes, has no horrible smell and doesnt irritate my skin.