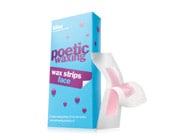 Reviews For
bliss Poetic Waxing Strips for Face
Awesome
This is another wonderful product from Bliss. Very easy to use and work well. Convenient and mess-free
The package suggests that this product is intended for touch-ups between spa treatments. But actually I found that it worked well for me as a replacement for a professional waxing job, and is much less of a production than heating up wax, which is what I have been doing. Admittedly in neither case are the results as good as having someone else do it, but I just cant afford tne expense. I found these strips easiest to use for lip and chin less easy for brows but thats true when I use regular wax, too. LovelySkin Customer
Verified Purchase
Not for thick coarse hair!
Not recommended for thick coarse facial hair! I was very disappointed as I love Bliss products. LovelySkin Customer
Verified Purchase
Highly recommend!
I highly recommend this product. I just tried at home waxing for the first time and took a risk with these. I was surprised to find how easy it was! The strips weren't messy. They were easy to use and just as effective as going out and paying someone to wax for you. I was actually able to cut them up into smaller strips to match the size of the area I was waxing. In doing that, these are going to last me for quite some time which makes them really affordable. I'm going to go buy the body strips now too! LovelySkin Customer
Verified Purchase