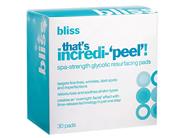 Reviews For
bliss That's Incredi-Peel!
Great product!
I love these individually wrapped peels! It is a great product, and my skin has shown tremendous improvement. They are super easy to use and have a generous amount of peel on the little towelettes. I will definitely continue to buy! LovelySkin Customer
Verified Purchase
Forget a facial
Having both sensitive and acne prone skin it was hard to find something that was effective but gentle at the same time . I use them every other night and leaves me with a soft and clearer complexion. LovelySkin Customer
Verified Purchase
great for sensitive skin
These pads are great! I have sensitive skin prone to breakouts and they didnt irritate me. At first I used it on alternating days and gradually started to use them daily. It helped with the appearence and texture of the skin by making it look clearer and smoother. Helps with acne and lightens hyper-pigmentation. The only downside is the price, and I wish they would sell it in a solution form instead of pads. So happy I found these!
I am obsessed with these little towels of magic! They have helped tremendously with my acne and sloughing away dead skin. My skin feels healthier, brighter, and free of acne. I use one every night after washing my face and neck. These little mini-peel towels are magical! LovelySkin Customer
Verified Purchase
This Peel IS Incredible
I LOVE THIS PRODUCT!!! My little sister gave me a couple of packets when we were on vacation, IT IS TERRIFIC!!! It made a difference in the texture of my skin from the first application. It just keep getting better and better. TRY IT!!! LovelySkin Customer
Verified Purchase