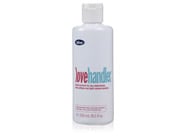 Reviews For
bliss The Love Handler Liquid Workout
Good lotion.
Slight tingle. Not greasy. Not necessarily sure if it actually works on its own or not. I use it during workouts as a little extra something. LovelySkin Customer
Verified Purchase
All hype
Like the way it feels but lets face it, there is no genie in the bottle. If you want hydration this is fine but will keep this for days that I am trying to cool off. LovelySkin Customer
Verified Purchase
Fallen in love with Bliss Love Handler!!
I have been using Bliss Love Handler for 2 weeks now, applying it on my abdomen, sides and around my back area and am very happy to say I have noticed a difference! Every morning and night I apply it, I feel and see a difference in my abdomen (love handles) being tighter. I have not worked out in at least 3 years due to health issues, this product helps the not so tight areas feel and look more toned in the mid section for sure! It goes on smooth and when I apply it, I feel a tingling sensation so I know it is working. The bonus is I can purchase this through LovelySkin -get free shipping, free samples of other products and get it cheaper,rather than buying through other local stores that don't offer anything! I LOVE this product and LovelySkin.com!