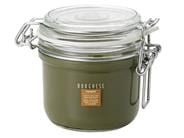 Reviews For
Borghese Fango Active Mud for Face & Body - 7.5 oz
Borghese Fango
Have used this for many years and it leaves your face feeling smooth. Tightens while drying. Rinse off and your face feels wonderful. Mermaid
Verified Purchase
Borghese wonderful
Love this mask. Have used it off & on for years. Love the natural glow it gives your skin after using. Broghese has been around a long time & is a great line of products. This stuff is amazing
I was using straight bentonite clay for a while but mixing it was always a pain and I wanted to find something easier to apply. THIS is it! This works amazing, I can feel it clearing out my pores and after just one use I noticed my pores were smaller and my skin was so even and soft. The smell isn't the best and it does sting slightly for a few seconds at first but that goes away, totally worth it! LovelySkin Customer
Verified Purchase
I love this product!
The product removes dirt from pores without putting stress on your skin. I love it so much that I also purchased it for my niece who has lots of blackheads. The amount of blackheads on her face has reduced significantly. I would totally recommend this product! LovelySkin Customer
Verified Purchase
Good Product
I have only used it once, so I am not sure if it is extremely beneficial, but my face felt great after using it. I will continue using it once a week and see if I notice any differences. LovelySkin Customer
Verified Purchase
Fantastic!!!
Makes your skin look and feel fabulous. Enough said!! LovelySkin Customer
Verified Purchase
I Love this mask!
I Love this mask! I have used it for years and it lasts a very long time! It makes my skin feel so soft and clean. I think it is a must have in facial masks! LovelySkin Customer
Verified Purchase