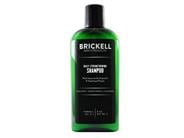 Reviews For
Brickell Daily Strengthening Shampoo
$20.00
Brickell Wins Again!
I have used a lot of Brickell products and am generally pleased with most of them. For most men's care products the Shampoo/Conditioner products are what I'm least excited about. Generally, I feel as if they are all pretty much the same. Brickell is one of the few Shampoo products that actually feels as if it's doing something "different" and better than all the rest. In fact, I'm visiting LovelySkin as we speak to order another bottle, in the larger size. LovelySkin Customer
Verified Purchase
Brickell Daily Strengthening Shampoo
Good smell & working shampoo for oil hair. Great shampoo
I feel like this shampoo cleans my hair without any buildup. LovelySkin Customer
Verified Purchase
Excellent Product
I am a woman and decided to try this shampoo and the conditioner. I have thinning hair and need more body. These products work and I shed minimal hair after shampooing. My hair is also colored and I have not seen any fading (I wash my hair daily). The conditioner does not weigh my hair down and actually provides body. Love, love these products and will continue using them. LovelySkin Customer
Verified Purchase
Awesome
Works well. No Dandruff because it doesn't dry out your scalp. Really great product. LovelySkin Customer
Verified Purchase
Works well
Smells great and adds volume to hair LovelySkin Customer
Verified Purchase