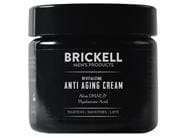 Reviews For
Brickell Revitalizing Anti-Aging Cream
$40.00
Different Consistency!
I've had other creams which were a little more liquid compared to this one. Brickell had a more thicker, pastier texture. Jury's still out on this cream. Was missing a good amount cream from the right side like a big scoop
I have purchased directly from brickell before and they gave me a picture perfect jar of 2 oz cream unlike the one i got here with a huge scoop by the right hand side Love it!
This was bought as a gift for someone. I haven't used myself but he absolutely loves it. It doesn't clog your pores and feels light and airy on the skin. Also helped with reducing some age lines on the forehead even through using every other day MichaelP
Verified Purchase
Amazing
Love all Brickell products this one here leave my face feeling tighter wrinkles are less visible. Consistency is the key. Gilbert
Verified Purchase
Great moisturizer
Husband is really enjoying this cream. Perfect on skin. I can see progress with wrinkles already, and it's only been couple weeks. One minus is that the bottle is very small. One bottle will only least for 2 months maximum. Will buy again LovelySkin Customer
Verified Purchase