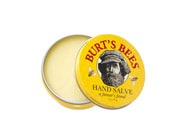 Reviews For
Burt's Bees Hand Salve
Intense Repair
This hand salve works wonders, especially in the winter months. Because I work with a lot of paper I constantly have dry hands and this helps keep them moisturized, soft and helps with white dryness you get in winter months. WORKS GREAT IN WINTER
During the winter my hands get so dry they literally begin to crack and bleed, I apply this to my hands every night and put socks over my hands because it is a little greasy and I dont want to get my sheets all greasy and my hands are alot smoother and they no longer are extremely dry and crack and bleed I love this product its a must have for those cold harsh winter months.