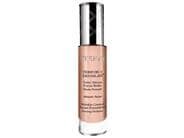 Reviews For
BY TERRY Terrybly Densiliss Anti-Wrinkle Serum Foundation
Fabulous Foundation that is also Good for Your Skin
I've been using the Terry Anti-Wrinkle Serum Foundation for the past three years and think it is the best. Not only does it give great coverage without looking heavy, it leaves your completion looking flawless. I'm a 70 year old redhead with freckles, and yes the wrinkles that have come with aging. This foundation doesn't sit in your pores and wrinkles but glides over them and seems to hide the skin flaws. Yet, your skin still shines through with a nice glow. I was thrilled to find it available on the LovelySkin website since I was afraid I was not going to be able to locate it with all the stores closed during this ongoing pandemic. Much to my surprise, there it was and at a discounted price as compared to the high end department stores. Also, LovelySkin has a full complement of the other Terry products which I also find to be outstanding, particularly the sheer powder. LovelySkin Customer
Verified Purchase
Foundation as Skin care
It's difficult to avoid hyperbole when talking about ByTerry cosmetics. They are costly to be sure, but, oh, the luxury! The foundations might be their crowning achievement. Like other By Terry products, this Densiliss foundation is unique. One is immediately struck by its smoothness and spreadability. It creates a flawless look with very little product and leaves a finish that's not quite matte but not dewy, either. One of the strangest aspects of my exploration of this foundation is that at least 3 different shades seem to work for me. I know not to what I can attribute this mysterious chameleon quality, but it's true. Like other By Terry products, its scent strikes with immediacy and in this case, it's not very pleasant. It eventually fades, but the unmistakable scent is powerful for a while. It almost smells like oil paint. I've adjusted to it because this elegant foundation has extraordinary endurance. Even without any fixative or powder, it remains all day, giving my skin a beautiful evenness and finish. Extra bonus, it's also skin care!