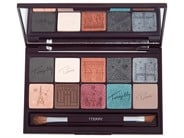 Reviews For
BY TERRY Terrybly Paris V.I.P. Expert Palette - Paris By Night
Pretty good!
I felt that this palette was a bit overpriced for what it is. The formulas are buttery and smooth but the mattes in this palette are patchy and require lots of blending. The shimmers are awesome and I enjoy using them. You don't even need to use your finger to get sparkle on your eyes, although you can intensify things this way. I've created some awesome looks but my favorite color is that teal. It's beautiful and pigmented. I do recommend this as long as you have the money to spare. If you don't, don't bother with this. There are cheaper palettes that will give you this performance. I also got the Paris by Light palette, the companion palette to this one. I actually love that one more because the mattes are smooth and the shimmers are awesome. I think Paris by Light is far superior to Paris by Night and I recommend the Paris by Light if you can find it. It's sold out in the US but you can still get it in the UK. A Must-Have Palette for Night!
This is a luxe palette, a must-have palette for evening, a palette you'll find yourself reaching for over and over again! The gold packaging is sleek, slick, seductive. There are ten large shadows, each precisely and beautifully etched with the brand name or a scene reflecting the beauty of the "City of Lights." The compact also houses a large, truly usable mirror and a dual-ended applicator brush. And the colors—oh, the colors! You'll see that this an excellent, intriguing, complex meld of matte and shimmer shadows, in both gentle and bold hues. The powder has a unique "creamy" texture; it adheres to the brush and wears a very long time on lids. Application is nearly seamless. Some women may avoid glimmer shadows, but the particles in these are so miniscule that you'll never look garish, just alluring. Shades include a delicate cream, a ubiquitous taupe/grey mix, deep chocolate brown, burnished gold, warm berry, and matte charcoal. The looks you can create are endless—for a palette of this high quality, the price is most reasonable. I am truly and forever smitten!