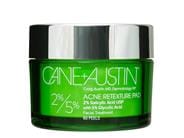 Reviews For
Cane+Austin 2%/5% Acne Retexture Pad
She loves it!
My adult daughter still struggles with acne, so I gave her my free sample. We quickly placed an order for a full size jar. After using it for a month, she is still very satisfied. Skin is clearer, without any harsh effects or drying out. She highly recommends this product. Good!
I used this before a mask with excellent results. This is the first time I've used anything from this brand and I'd like to try more products, the quality is excellent! Amazing and Fast!
I purchased this for my niece who just began college. She was broken out with acne and has oily skin. Because she had tried other harsh products, she was also flaky and dry, with the oily skin below, what a mess. After just 5 days of using these pads, her skin is quickly clearing up, but most importantly it seems calmer and more balanced, no more flaky skin. Now, when you look at her, you see her and not the breakouts and oil! Starting college is a stressful time, and this has made her more confident of her appearance.