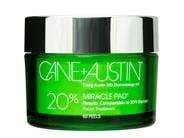 Reviews For
Cane+Austin 20% Miracle Pad
Amazing
You'll notice a difference after the first use! These pads leave your skin smooth and refined and brighter. I love them! Won't be without them! Skin smoother
Great product! Could feel it working. Real results at an affordable price. Good
Good product, it does not sting at all and has no scent. I don't have sensitive skin, so I could use these every day. Feels Great
This feels great on my skin! My face feels so smooth and refreshed after! I wish the price was better, but LovelySkin offers the best deal for it. Results in days
I love this product. It's helped diminish my fine lines. I started by using it once at night and then added it to my morning routine too! LovelySkin Customer
Verified Purchase
Nice exfoliator that doesn't burn
Great, easy to use exfoliator - doesn't burn or make your skin feel like sand paper the next day. Perfect amount of acids to do the job! LovelySkin Customer
Verified Purchase
good
my skin smooth and look good LovelySkin Customer
Verified Purchase
Great exfoliation!
I love this product! I am one of those who never really see a lot of results from Retinol. But, with these, I feel the exfoliation and see brighter, smoother skin, and less noticeable pores. There are some results fairly quickly, but the real change comes over about three weeks of consistent use. They do sting for a few seconds, but the results are worth it! I have seen a significant difference in the quality of my skin. Make sure you wear a sunscreen though. Your skin will be more sensitive. LovelySkin Customer
Verified Purchase
Fantastic
This is the best product for large pores and also evening out skin tone. I plan ordering for my sister as well LovelySkin Customer
Verified Purchase
Legit
I've tried a few glycolic products, and I have to say this is the best I've tried so far. LovelySkin Customer
Verified Purchase
products works
I am very happy with this product. It does everything it says it will. Did not irritate my skin and wrinkles have already lessened. LovelySkin Customer
Verified Purchase
Does what it says it will!
After 3 years of being the primary caregiver to my aging parents and still working full time, the sleepless nights, bad nutrition choices and stress had taken noticeable toll on my skin. At 48 years old, I thought maybe I'd just have to accept it, or maybe I'd have to consider saving up for some big laser intervention. Instead, I read A LOT of reviews about this product after seeing it mentioned in an article about new skin product ingredients that are truly beneficial. This price point is a splurge for me, so I wanted to hopefully learn all I could before buying. I read customer feedback across many different sites. Other than some people with sensitive skin finding it harsh, most were extremely positive. I am now on my second jar. I cut the pads in half and get double the use. This product noticeably calmed my reddish areas and decreased my pore size. It leaves my skin better able to absorb moisturizer. It was wonderful to have it meet its claims! LovelySkin Customer
Verified Purchase