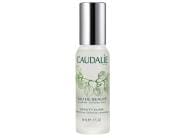 Reviews For
Caudalie Beauty Elixir - Travel Size
$18.00
Favorite
I've been using this for years. It wakes my complexion up, tones & shrinks pores in an instant. Spa in a bottle. Smells soothing. Incredibly refreshing LovelySkin Customer
Verified Purchase
Lovely mist for hydration and setting makeup
I've used this mist for several years now and absolutely love it. I use it to prime my skin before makeup and recently started using it to set it too. It's also a good pick me up in airplanes and whenever my skill is dry. Highly recommended! LovelySkin Customer
Verified Purchase
Love this spray that I buy these travel size for gifts!
A friend gave me a bottle of this to try and I have been using it ever since! I have a regular size bottle I keep at home and several travel size ones for at work and in the car. It feels so good to spray this mist on and feel refreshed and the scent is also invigorating. I share it also with my coworkers who then buy it as well. Definite must to have if you live in a dry climate or harsh drying winters. LovelySkin Customer
Verified Purchase
Smells like heaven
This is the perfect mist for travel. I keep in my travel bag and use to refresh while in the air! Love the smell and feel
Loved the smell and feel. However, I did not see any results. LovelySkin Customer
Verified Purchase
Beauty Elixir
For men, this product is wonderful on your face after a shave. It makes your face fresh and clean feeling. LovelySkin Customer
Verified Purchase
Mixed feelings
This stuff feels and smells so good, but it contains alcohol which dries out my skin. :( I bring it if I'm traveling to replace my toner/micro-essence routine that I normally use. LovelySkin Customer
Verified Purchase
Amazing!
I've fallen in love with this spray! It is now my absolute favorite face care product. I spray it on my face in the morning after cleansing and then after I put on my makeup. Normally at the end of an 8 hour work day my face looks oily and my eye make up looks smudged. I would have to use an oil blotting sheet and touch up my makeup. Since I've been using this face spray, my face no longer looks oily, my make up always looks fresh (almost like I've just put it on!), and my face looks so much clearer! I barely ever get a zit now! The spray is a bit expensive, but it's so worth it! LovelySkin Customer
Verified Purchase