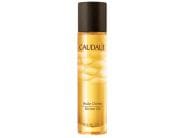 Reviews For
Caudalie Divine Oil
$49.00
Divine oil
Absolutely magnificent. Great for dry winter skin. And the smell is pure heaven. Love it. JanieLULU
Verified Purchase
Perfect!
Will buy it again! vbelopolsky
Verified Purchase
Divine
Great oil and versatile too. It absorbs well into the skin and has a lovely, delicate fragrance. Leaves my skin so soft whether I use it by itself of layered over a body lotion. LovelySkin Customer
Verified Purchase
It is Divine!
More moisturizing than the typical dry oil and the fragrance is heavenly! I'm a big fan of another French label oil, no more! This is my choice! Just received today and had to immediately try. It's amazing! Skincareaddict
Verified Purchase
Love this product
I love this product. I've been using it for years and love the smell and the way my skin feels after using it. A bit pricey so wait for it to go on sale. LovelySkin Customer
Verified Purchase
Multi-purpose oil, great for hair, too
The texture of this oil is great because it absorbs quickly. Apart from use on my body, I spray some on my hands to run it through my hair. My hair is short and dry, and it gives it a great shine and body! I just wish the scent was a touch more subtle. LovelySkin Customer
Verified Purchase
A Body Oil That Is Truly Divine
Caudalie's Divine Oil is a light, non-greasy, rapidly absorbed after shower oil that I just cannot live without. It has a pleasant scent and leaves my skin really soft. I have not used it on my face or hair, however, but I think it would probably be beneficial for hair that is frequently blow-dried and flat-ironed. I think Divine Oil is a worthwhile product, and I recommend it highly. LovelySkin Customer
Verified Purchase
Best for skin
I love this product. It is a light oil with a great smell. No perfume needed and it makes your skin smooth and soft LovelySkin Customer
Verified Purchase
A LITTLE DISAPPOINTED
I purchased Caudalie Divine Oil recently on the advice of a friend. The product bottle is quite large and a little goes a long way so definitely worth the money in that regard. The scent is jasmine - which I normally like - but it's a very strong scent and smells artificial. That's my main complaint - the scent is just too strong. Because of that I use the oil on my body only - a nice post-shower moisturizer. If you can tolerate the scent a small spritz would easily moisturize your face, however, If you are sensitive to artificial ingredients I would not use this on facial skin. LovelySkin Customer
Verified Purchase
Good for dry hair
I loved how it smoothed my hair and kept the waves and curls when I let it air dry. The scent is a bit strong for me. Great for dry skin and hair
I love how this dry oil hydrates my skin and hair without feeling greasy. Plus, it smells wonderful!
Kristen
LovelySkin Employee