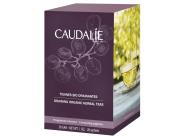 Reviews For
Caudalie Draining Herbal Teas
$14.00
Nothing special
I generally love Caudalie and had wanted to try this tea, but I was underwhelmed. It doesn´t compare to any nice organic tea brand you would find at a grocery store for a much lower price. I also didn´t appreciate the plastic wrappers on every tea bag. LovelySkin Customer
Verified Purchase
Tastes good
I've bought this now about 4 times now, will continue to buy. I enjoy the smell and taste. LovelySkin Customer
Verified Purchase
Wonderful
After just drinking this tea for 3 days I dropped 4 pounds. I sleep better at night. I now have it being delivered every month. I just love it. Good tea for after work
I enjoy this tea after work when I do not drink a lot of water. LovelySkin Customer
Verified Purchase
Soothing, pleasant tea
This is a wonderful tea for relaxation! It's very tasty and such a treat. I didn't feel much of a detoxification effect but I'm sure it helps with the process! Nice taste
I was hoping that this tea will be ''stronger'' as I usually like teas this way, however, the flavor is light but very tasty. Every time I drink it I feel relaxed and my stomach feels good. almaguerx
Verified Purchase
Amazing smell
Will buy again Tea
Caudalie's body treatment is exciting, and it is my effort to continue to improve myself. Thanks, LovelySkin, for this opportunity. LovelySkin Customer
Verified Purchase
Tea
Great results and super yummy Love this product!
Love this tea---great taste, and while it's hard to know if it actually does any "draining" I have felt better since using it! LovelySkin Customer
Verified Purchase
OMG
This herbal tea deserves 10 stars! I AM HOOKED! After trying out only a week, I noted that my waist line has got smaller. No more fullness feeling in the stomach after eating a giant plate of food. Smell vanilla which is amazing to drink. Highly highly recommend it. LovelySkin, please do not stop carry this amazing product.