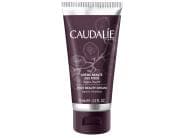 Reviews For
Caudalie Foot Beauty Cream
$15.00
Love
I noticed a difference after one use. My heels were supple and soles, soft. I put socks on after the cream, not sure if this makes a difference. LovelySkin Customer
Verified Purchase
Lovely foot cream
I only wish this came in a larger tube. It´s rich and moisturizing and smells amazing. If you like Caudalie you´ll definitely enjoy this. LovelySkin Customer
Verified Purchase
Caudalie Foot Beauty Cream
I was looking for a good foot cream to maintain the softness after a foot exfoliation and this cream has been working great! I use it every night and wear fuzzy socks after use.....my feet are so soft in the AM. It's not greasy and has a nice faint scent to it. The price is very reasonable as well. Recommend it. Very Good Foot Cream
This is an effective foot cream for softening and moisturizing the feet and heels. I use it at night and also frequency use a pumice-like device to remove dry dead skin from a callous on my big toes and my heels. So just by itself without other attention to your feet, it might not be as effective. It has a very nice smell. The only reason I gave it 4 stars is that the amount you get for the price is not great. MCDancer
Verified Purchase
Holy grail of foot cream
This foot cream is not greasy , has no fragrance and leaves my feet so smooth. It is perfection for such an overlooked part of the body. I use every night and it doesn't make my skin feel drier when I miss a few sessions. I hope this isn't being discontinued because I saw the quantity was low. I only have used this cream for 5 years now and won't know what to use. Shamrockjulie
Verified Purchase
Rich and creamy
Love this foot cream, non-greasy and really softens my dry aged skin! Can't go wrong with Caudalie products! And this one is the best I've tried! Skincareaddict
Verified Purchase
Leaves feet soft
This product helps to keep your feet soft and worked best for me to use at night with socks on. The foot cream does a night job hydrating and gave it three stars because it is slightly greasy compared to the hand creams. LovelySkin Customer
Verified Purchase
Great Foot Cream!
Switched to this foot cream recently and love it! Very moisturizing and love the smell and feel of it. My heels have even smoothed out. Caudalie is a great brand for most things! LovelySkin Customer
Verified Purchase LovelySkin Customer
Verified Purchase
Love it
Not greasy and gives, my feet the softness it needs. Put this on with socks after a bath...oh yes LovelySkin Customer
Verified Purchase
YUM!
Smells fantastic, feels fantastic and a little bit goes a long way!! Great value...Great Gift! LOVE this foot cream and all things Caudalie! LovelySkin Customer
LovelySkin Employee