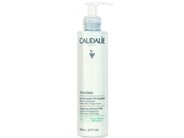 Reviews For
Caudalie Vinoclean Cleansing Almond Milk
$28.00
Great line
I like to keep this in my arsenal of face products because it feels great and is so gentle. I never second guess products from this line. I think they are great quality and with the LS discounts, it's a no brainer. Aislinn
Verified Purchase
Lovely smell!
I've used this cleanser several times and always enjoy using it! The scent is not overpowering at all (I'm prone to migraines so fragrance is usually a big no no) but not so with Caudalie. Don't expect it to remove makeup unless you use a cleansing balm or oil first. I use this in the morning on dry skin and massage it in gently then add a few drops of water. No foam, no emulsifying just a gentle cleansing milk as the name states. Suitable for most skin types except acne or oily. I really think you'll enjoy this product and your skin will too. lifeplyr01
Verified Purchase
Cleansing Mild
It is the best cleansing product. It is both gentle and effective, even removing mascara. LovelySkin Customer
Verified Purchase
Nice product, smell is a little weird
This is a nice, gentle cleansing milk. It isn't too thick and it's not greasy - tissues off cleanly. The only reason I'm not giving it 5 stars is that it has quite a strong fragrance and it's more of a "masculine" smell -- meaning it smells like a man's aftershave or body wash. I'm not sure if I'll get it again for that reason. But the smell doesn't linger and other than that issue it's a good product. LovelySkin Customer
Verified Purchase
Not bad
This cleaner smells nice and works well with sensitive skin. Good for removing makeup. LovelySkin Customer
Verified Purchase
So soft
Smells wonderful. Great morning cleanser that lifts away surface debris and leaves your skin so soft. LovelySkin Customer
Verified Purchase
Caudalie cleansing milk is wonderful on my dry skin
Caudalie products where have you been! I have tried Tatcha, Clinique etc. and nothing compares to Caudalie products to work, at least on my dry skin! LovelySkin Customer
Verified Purchase
Love it!
I got a bottle from a friend a few months ago, and it completely changed my skin. I no longer have dark spots, and my skin is more clear in my mid-thirties than it was in my 20s. I use this every morning as a moisturizer. It feels so light and non greasy. I'm so glad I found this site, so I can restock! LovelySkin Customer
Verified Purchase