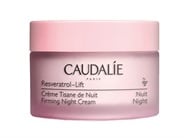 Reviews For
Caudalie Resveratrol-Lift Firming Night Cream
$69.00
Firms
I use this with the serum and day cream my skin looks firmer. Flowers
Verified Purchase
Sticking with the medical-grade products
Didn't do the job. I am going to stick with the medical-grade products with active ingredients that get the job done. Tighten Up
I love this night cream. It really hydrates my skin and visibly firms it. Love the scent to it. Little goes a long way. LovelySkin Customer
Verified Purchase
Amazing
I have 30 year old dry skin that is just starting to show signs of aging. I've been using this cream for about a month in combination with the elixir from Caudalie. I've noticed my fine lines and sun damage spots have faded and my skin feels smoother. The consistency of the cream feels luxurious and is super hydrating without feeling heavy. The packaging is very nice as well, I really feel like I'm pampering myself. Also, someone guessed that I was 24 the other day. I'm sold. LovelySkin Customer
Verified Purchase
Neck Polishing
I had lines on my neck from the chin to the collarbones. Those lines looked like the wooden fence's lines. Caudalie's Resveratrol title tells "Lift" and WOW–it really does! I use it in the morning and again at night. Those lines are going away without any panic and with great appreciation as the neck looks much younger. LovelySkin Customer
Verified Purchase
Oily creme
This crème is too oily for my oily face. It sits on my skin and doesn't absorb. I wake up with a liquid forehead and the remainder is on my pillow. Will not repurchase. LovelySkin Customer
Verified Purchase
Very moisturizing
I have dry, mature skin. Retinol creams tend to dry my skin out even more, and I use them only twice a week. I bought this product because I had read it is very moisturizing, not so much for the "lift" benefit. It really does work. When I wake up in the morning, my face still feels moisturized. And a little does go a long way, I use it sparingly. I'm not sure about the "lift" part, but it sure doesn't hurt! I will buy it again! pentoni
Verified Purchase
Perfect
I have tried every expensive face cream out there and I'm telling you, this one beat them all! Hydrating Night Cream
This night cream is very hydrating and leaves my skin really soft. A little goes a long way. Would highly recommend.