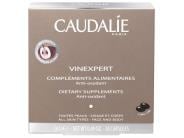 Reviews For
Caudalie Vinexpert Dietary Supplements
Cannot find its equivalent...to my knowledge
I 'think' it is helping. However, I am faithfully adhering to my Caudalie skin routine and it has definitely made a difference. I even had a girlfriend comment and ask what I was using. Is it the vitamins? I honestly don't know because it would be impossible to isolate whether it is the vitamins, the skincare, or the combination of everything???? Nonetheless, I did a lot of reading and there is scientific proof that the grape extract from red wine is an excellent antioxidant that is good for the skin and the heart, and I guess everything else. Caudalie uses natural ingredients and is an outstanding company; thus, the 5-star rating. I feel better and my skin looks better, so I am pleased with the vitamins and Caudalie. In addition, I am VERY pleased that LovelySkin carries these high end products. LovelySkin Customer
Verified Purchase
Ahh, Caudalie
Are there any unsatisfactory products within this brand? I don't think so. I tried so, so many if not all (if I count samples), and I cannot say a bad word. And these capsules are not an exception. A great addition to a daily healthy routine & for a great price! LovelySkin Customer
Verified Purchase
Love this stuff
Very easy to take and has some wonderful stuff in it. It makes sense to me to take care of your skin inside and out. Thanks LovelySkin for carrying this brand. Really Good Skin Booster
I have been using the Caudalie Antioxidant supplements for a few months now and have seen an improvement in my mature skin. My skin seems less dry and feels much smoother and moist. I like the grape-seed oil, the starflower-seed oil (Borago officnallis L) and the virgin evening primrose seed oiI. I take two capsules each day and plan on continuing their use. This product seems to work for me. LovelySkin Customer
Verified Purchase
Excellent product
My skin has changed using the pills. I've been getting compliments on my skin glowing. I recommend anyone to try this product out. LovelySkin Customer
Verified Purchase
Yes!
I have used Caudalie facial products for years but these truly have changed my skin! I notice my skin is softer and more vibrant when taking these. Underrated product
I was wondering why there's no review about this supplement. Another amazing product from Caudalie. I noted my skin brighter and moist after two weeks of taking it. Wrinkle and fitness, have not noted yet but I am so happy already for the brightness and moisture that I got so far. Please...LovelySkin, bring them back in stock sooner!