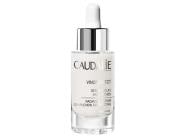 Reviews For
Caudalie Vinoperfect Radiance Serum
$79.00
It takes time but it works!
This is a good product, you just have to be patient and consistent. I started noticing a difference after I finished my first bottle. Am on my second bottle and so far so good! Love this stuff!
This serum does wonders for my skin. Not only is it hydrating but it also helps with dark spots. LovelySkin Customer
Verified Purchase
Great Hydration
I've only been using this a few nights, but what I can say off the bat is that it absorbs nicely into my skin, hydrates quickly, doesn't irritate my easily irritated skin, and plays well with my other products. It is too early to tell if, with continued use, it will lighten up my dark red post-acne marks, but I'm hopeful because esthetician YouTuber, Hyram recommended it as his favorite product for that, and other products that he's recommended have worked out really well for me. For reference my skin is somewhat easily irritated, and oily, dehydrated, and starting to show signs of aging. LovelySkin Customer
Verified Purchase
Beautiful product
Very effective in taking away years of dark spots from your face! LovelySkin Customer
Verified Purchase
Do not see any difference
I have finished 50% of the product and do not see any brightening or even skin tone. I will not buy it again. LovelySkin Customer
Verified Purchase
Radiance indeed!
I received a sample of this a few years ago and immediately wanted to add it to my nightly skin care routine. I apply the serum first, followed by Caudalie Vinosource Moisturizing Sorbet Cream. I love how light weight it feels and my skin definitely looks brighter! LovelySkin Customer
Verified Purchase
Staple in my routine
Have used for years! Great at brightening skin and evening out skin tone. Has not caused any irritation to my super sensitive skin. LovelySkin Customer
Verified Purchase
Nice serum
I have been using this serum since I bought it (4-5 weeks ago). Even though instructions say to use it twice a day (day/night). I am using it only in the morning because at night I use Obagi's Vitamin C serum. I don''t know if it is the combination of these two serums or it is the Radiance serum, but I have noticed some change in my skin, in overall complexion and the sun spots I have, seem to be getting better little by little. almaguerx
Verified Purchase
Evens Skin Tone
This does have smoothing effects. I have not seen a reduction of scarring as of yet but will continue to use as it does take time. All in all it is a nice product. My favorite serum!
I love the texture of this serum, the smell, the color, everything! I went without it for a few weeks and knew I couldn't live without it in my regimen. Easily diminishes post-inflammatory acne marks and keeps my skin tone looking bright and even so I don't need much foundation :) Love, love, love! LovelySkin Customer
LovelySkin Employee
Best serum
Makes my dry skin so moisturized, even in the cold. This may take a while...
A LovelySkin rep did an online chat with me and suggested this product for help with age spots and discoloration. While it is a little early to know precisely how Vinoperfect Serum will work for me (conservative estimates are that it takes 2-4 months to see any effect from a serum), so far so good. The serum is lightweight, smells divine (a very natural floral–not a factory-made smell) and appears to do what it says it will. I do have some flaking if I use it alone, have got to use a moisturizer over, but I have hopes it will work on some of my age spots. Directions state to use twice a day, which admittedly I don't always do, but if even some of my uneven skin tone goes bye-bye, I'll be happy. I'll post a follow-up at the 6 month mark. LovelySkin Customer
Verified Purchase
Awesome topical
I bought this product to help with skin discoloration from acne scars and sun. I noticed a difference in the texture and color with 2 weeks of using it! I will definitely buy another bottle after this one is finished. Very nice product! LovelySkin Customer
Verified Purchase
Caudalie Vinoperfect Radiance Serum
Great product, however, I've only been using for a good couple of months now. While some of the dark spots appear a little diminished, think just like anything good, this will take some time to work. It smells good, has a light feel and a little seems to go a long way. This has become one of my favorites to use in my skin care routine with my moisturizer. LovelySkin Customer
Verified Purchase
Great For Fading Dark Spots
This lightweight lotion absorbs quickly into my skin. It also helps even out my skin and fades my brown spots. LovelySkin Customer
Verified Purchase
My go to product
I have used this product in the past, and always find myself going back to it. It brightens my skin and leaves my skin looking nourished looking with a glow. I also love that it absorbs into the skin and is not greasy or sticky. LovelySkin Customer
Verified Purchase LovelySkin Customer
Verified Purchase
Caudalie Vinoperfect Radiance Serum
This serum is absolutely worth the higher price-tag. I have areas of hyperpigmentation on my skin from sun exposure. Since I started using the vinoperfect radiance serum I have noticed that my skin has lightened and become more evenly toned. My skin also has a great, soft quality to it. I would agree that this serum brings "radiance". It also makes my skin feel instantly refreshed. I am already on to my second bottle and use it every morning and evening. I recommend that you try it. LovelySkin Customer
Verified Purchase
Caudalie Vinoperfect
Caudalie Vinoperfect is one of the newer products I decided to purchase through a promotion. Since I just incorporated this product in my skincare regimen I can truthfully say the application is very nice helping my skin feel more revived and less tired. Hence the name: Caudalie Vinoperfect Radiance Serum. LovelySkin Customer
Verified Purchase
Bright
I bought this serum in Paris years ago and absolutely adored it. I don't know why I waited so long to repurchase! It is such a lightweight addition to my skincare routine and makes a huge difference when it comes to dark spots and pigmentation. Love! Caudalie Vinoperfect Radiance Serum
Ive probably started using this product since Ive been a fan of Caudalie. It definitely does what it promised which is evening out your complexion and increase radiance. When I dont use the serum I notice a visible difference. Its expensive but its worth it in my opinion. LovelySkin Customer
Verified Purchase