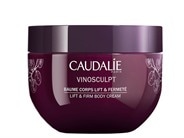 Reviews For
Caudalie Vinosculpt Lift & Firm Body Cream
$45.00
It works!
I am on my 2nd jar. Noticed my arms and chest were getting some creepiness and this cream has made a big difference. I enjoy the scent and it really leaves my skin feeling plumped and hydrated. Plus, you get a lot of product for the price. LovelySkin Customer
Verified Purchase
Reviews are right
The reviews were right; this product goes on smoothly, absorbs quickly, and smells lovely. It is a strong scent, but I use it just out of the shower so it takes much less. I cannot yet attest to the firming capabilities, but I have high hopes! Fenchie88
Verified Purchase
Great cream
I am on my first jar and I can see some results not great ones but I just started a month ago. I will try to be more consistent like the rest of the reviewers mentioned and compare the results. Definitely worth a try! LovelySkin Customer
Verified Purchase
Consistency is key
This is my 3rd jar, and it wasn't until I was almost through my 2nd that I could begin to tell a difference. A little frustrated with the delayed results, I looked back and realized that I was only applying this particular lotion after bath time a couple times a week. I upped my use to 5 times a week, and it was almost overnight the noticeable difference. LovelySkin Customer
Verified Purchase
Skeptical until I tried it...
I had heard of Caudalie through a few IG influencers but had other body creams I was using at the time. When I saw it on sale I put it in my cart, purchased it and started using it almost every day as indicated by the instructions. Wow! This stuff really works. You do have to vigorously rub it in as stated in the directions but the result as are worth it! Highly recommend. LovelySkin Customer
Verified Purchase
Amazing for after Pregnancy
I love this product. The smell is amazing and I was looking for something after I had my daughter that would help to firm my stomach area. I have been using this for a few weeks now and I can already tell a slight difference. I will continue to use for more results. Like it
In particular in the colder months. It is a bit too oily for me during warmer months but perfect for colder days. The scent is heavenly! I have not used as regularly to notice if it makes a different in tone and firmness but I like it. LovelySkin Customer
Verified Purchase
Wonderful!
I bought this because I have areas on the back of my legs that just aren't tight no matter how thin I am. I've been using this day and I definitely feel tightening of my skin but what is even more amazing is how soft my skin is and how good this smells! I love this and will definitely order again!! Magbach
Verified Purchase
bought it and loved it
I bought this product not in the website from a private seller a long time ago and I can tell you this product really works it is very rich and works like it promises it will but you got to use a little bit because it is made to last for about one year if you use it right.