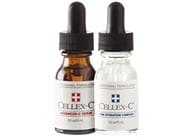 Reviews For
Cellex-C Advanced-C 2-Step Starter Kit
$121.00
Recommended
I love this product! Cute duo
So I gave this 3 stars because it's not my favorite vitamin c serum or hylauronic acid serum I have ever tried. Products are decent but not my favorites. Miss it when I stray
I have to say, I've used this product for years. Cellex-C and Glo Skin Beauty are some of the best out there. I ran out and decided to try another brand that is good but doesn't hold a candle to this brand. To each his own, but my skin always looks and feels amazing when I use this combo. LovelySkin Customer
Verified Purchase
Great kit!
This is a great starter vitamin C serum kit. I find the combination works quite well with quick results. The Advanced-C serum is unscented, lightweight, and absorbs quickly into clean skin. My complexion does look more even and bright with regular use, with visible results on my combo/dry skin in less than 2 weeks. I appreciate the inclusion of the Skin Hydration Complex, since vitamin C serums can be drying, especially on my dry patch-prone skin. The Hydration Complex is quite thick and dries slightly tacky to the touch. The instructions say to apply moisturizer on top of this, and this does layer nicely under my usual night cream, and keeps my skin looking plump and moisturized. LovelySkin Customer
Verified Purchase
Effective
I notice a positive difference in the texture and tone of my skin when I use these products. I do not like the dropper packaging, but overall I am pleased with the performance of this set. LovelySkin Customer
Verified Purchase
Huge fan of Cellex-C Advanced C Serum but Skin Hydration Complex not so much........
Thought that buying this duo would be perfect size/treatments for 30 day cruise. I have enjoyed Cellex-C Advanced C Serum for years and use both am and pm. I figured adding the Skin Hydration Complex was a ''no brainer'' but had no idea it is so sticky! I feel like I am pulling my face off my bed pillow when I apply before bedtime. Ick! I think it probably does a good job of hydrating my mature skin and the ingredients are great but I'm going to move on and try other brands. LovelySkin Customer
Verified Purchase