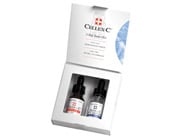 Reviews For
Cellex-C 2-Step Starter Kit - High Potency Serum
$105.00
Cellex-C is the bomb!
I wouldn't stray from this product. It's power combination gets the job done. I can tell a difference when I don't use it. Finally found it.
Finally found the perfect Vit C for my skin. This duo is perfect together and they make my skin look so healthy and smooth. I tried several Vit C until I found the right one for me. I have extremely oily skin and this has helped control my oil production and helps my makeup last longer. Another plus is the size of the bottles. Can use product and it doesn't get old. LovelySkin Customer
Verified Purchase
Brighter Skin
Have been using these products for a few weeks and OMG...what a difference! I have sun discoloration and fine lines. My skin looks so much brighter and clearer. So far, very happy. I love it!
I tried those serums more then 10 years ago. I changed my preferences to other products many times. But I am still with those two. They make my skin feel more taut and look younger. Love it! LovelySkin Customer
Verified Purchase
A Product that works
i have used cellex-c for 8 years. i have always used the face cream because i told that was better for sensitive skin. and over the years, i have seen remarkable results, especially no jawline sagging. however now i'm getting further into my 60's and thought i would try the serum since it is supposed to work better. i love it! it didn't bother my sensitive skin and my face seems to have a better tone to it. i even started putting the product on the back of my hands, another way to spot someone's age and my hands too younger too. in the past i have used products alot more expensive with less results. i'm hooked for life on cellex-c. LovelySkin Customer
Verified Purchase
High Potency more drying for sensitive skin
I've been using the C serums for a few years, and notice a little more dryness since starting the High Potency. I think my sensitive skin reacts best with the 10%-15%, but still believe it has great benefits. LovelySkin Customer
Verified Purchase
Great Stuff!
I love this stuff! You can tell the Vitamin C is potent and the follow-up B complex is extremely hydrating and goes a long way. It's a must-have. LovelySkin Customer
Verified Purchase