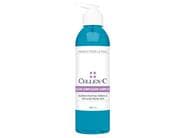 Reviews For
Cellex-C Clear Complexion Complex
$50.00
Love the color and smell but it leaks
I really like the color and smell of this toner and the sensation when I apply it. However the pump started to leak after I used half of it... Love it!
I love it so much! It feels very refreshing and helps to prevent inflammation so much as well as treat existing ones. The skin feels so tight and clean. LovelySkin Customer
Verified Purchase
Works Great!
I had been using many acne products over the years. As my skin has matured I have found the common acne ingredients are too drying. I tried a sample of Cellex-C and have been thrilled with its result. I have been using the product regularly now for about 6 months. I still have to be careful-and use it only in the morning or as spot treatments-as twice a day is too harsh. But with any product, every person is different and trying different applications is the best way to determine the best results. My teen age daughter does not find the product as helpful as the regular acne products-for us getting old ladies who never out grew acne- PERFECT! LovelySkin Customer
Verified Purchase
Did not work that well for me
This product did not help me with my breakouts. I had much better results with obaji clenzederm #2. LovelySkin Customer
Verified Purchase
Graet Product
My daughter has been using Cellex-C products for three years and the Clear Complexion Complex along with their cleanser has keep her face blemish free, she is very happy with this product LovelySkin Customer
Verified Purchase