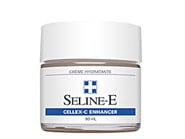 Reviews For
Cellex-C Seline-E Cream
$77.00
Surprisingly Good Product
When this Seline E Cream arrived I was anticipating a light, fluffy concoction. When I opened the jar I was a bit underwhelmed. It was an unpleasing yellow color and quite thick as creams go. At first I was disappointed because I did not feel a smooth glide when I applied it on my face. However, after a few uses, I am impressed. I used the cream a few times at bedtime and when I awoke the next morning my skin was baby soft and had good color. I will continue to use the whole jar and see how it goes. For now, it seems to be doing the trick! LovelySkin Customer
Verified Purchase
Cellex C Selene E
I had used this product before and loved it. For about a year, I used the GLA Extra Moisture Cream. It is a great cream as well. However, for my skin, it did not make my skin look and feel as great as the Selene E. For someone else, the results may be different. I would suggest to anyone, please try this product. LovelySkin Customer
Verified Purchase
Great Moisturizer
This is a great moisturizer for sensitive skin. LovelySkin Customer
Verified Purchase