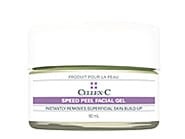 Reviews For
Cellex-C Speed Peel Facial Gel
$44.00
Do not buy
This is very a very harsh product. It peels away your skin and damages it, causing redness and dryness. I have a huge container of it that will go to waste now. Very disappointed. LovelySkin Customer
Verified Purchase
oH MY GOSH why did It take me so long to find this.
This is amazing. It's gentle on my skin, but removes all dry flakes, and makes my skin glow and look amazing. Who knew!! I don't think I can live without this one now. Great product!
It was my second jar of this products. I am about to order the third one! Follow directions and you are going to achieve incredible effect of clean and smooth skin that lasts at least a week until the next use. Love it!
Leaves my skin feeling super smooth and glowing. Great exfoliator
I love using this stuff when I use Retin A after a while and after peels. It's super quick and easy! LovelySkin Customer
Verified Purchase
Love it!
I wanted something to help with my face dryness after started retinol. I tried physical exfoliants because that's all I've ever used however they were pretty rough on my tender face. I saw this stuff on YouTube, and the lady using just raved about it helping with her situation (which was the same as mine). So I ordered it, and it is AWESOME. It worked so much better than any scrub I've had. (And I've tried a lot!) I use this once a week and it's been a great addition to my skincare routine. Try it, you won''t regret it! LovelySkin Customer
Verified Purchase
Love this!
Whenever I need mild exfoliating, I grab this! Great for after a chemical peel. LovelySkin Customer
Verified Purchase
Exfoliate Extraordinaire
Cellex-C Speed Peel is the perfect remedy for my Retin A wallpaper peeling face. I've been using my prescription A cream for 7+ months and the dry flaky skin is still cropping up unexpectedly. Cellex-C Speed Peel (rapid process) loosens the flakes and then I can roll them right off without irritation. The final step is gently wiping clean with washcloth and you are left with the most amazing skin. Smooth. Soft. Pores tight. And the most amazing bonus...my serum and moisturizer work phenomenally. I get all day glow and hydration. Some exfoliators can be so harsh, they leave my Retin A skin in worse condition. If you are a mature skin type and new to using prescription Retin A, you know the peeling skin crops up out of nowhere. This will instantly help with that embarrassing side effect and makeup day disasters. LovelySkin Customer
Verified Purchase