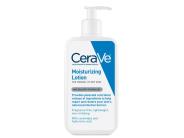 Reviews For
CeraVe Moisturizing Lotion
Sensitive skin body lotion
Works great as a body lotion. It doesnt irritate, no fragrance, and no greasy or heavy feeling. I put a thin layer over my keratosis pilaris and I had no reaction. Love it!
I love this moisturizer. I have tried and loved many moisturizers, but this is the best product for the money. It is perfect for my dry skin and has not caused any break-outs or clogged pores. LovelySkin Customer
Verified Purchase
Favorite Body Lotion
This is my favorite basic body lotion. Its very hydrating and moisturizing but not greasy, heavy, or sticky. I love that it is fragrance-free. Its also moisturizing enough for my hands, even in winter. This is a staple in my bathroom cupboard now, and I wouldnt want to be without it. LovelySkin Customer
Verified Purchase
Love this
Great for super dry skin and hands. Recommended by my derm! Everyday, everywhere lotion
This lotion is gentle enough to use year round on my entire body (face too!), every single day, even with sensitive, and acne prone skin. It's moisturizing, non-greasy, and dries quickly. It's officially my favorite, and the only lotion I use. Even better is their face wash- wow! Light, non-greasy, skin hydrating cream
There are many skin creams available but CeraVe is the only one that you can use on your body and also on your face. It easily blends into your skin and provides lubrication for the day without feeling oily or dense. I use it immediately after shower or tub and for the in-between times. A small amount goes a long way. I also use it as a face moisturizer alternating with my expensive products but I get the feeling that it works as well as the more expensive cosmetic moisturizers. I found out about CeraVe from my dermatologist. He recommends it to his patients. LovelySkin Customer
Verified Purchase
great moisture lotion!!
I really like this lotion! It is light and not greasy at all! It dries up perfectly and this product was recommended by my derm. No breakouts from this product. It soothes and provides a barrier against the weather. Mositurzies and doesn't clog pores!
I love this lotion. It's light and so far no breakouts! I use this with CeraVe cream for my body and my arms and legs are so soft and smooth. A CeraVe buyer for life! Great moisturizer for sensitive skin!
This is the only moisturizer I will use on my sensitive skin. It's fragrance free and doesn't irritate or cause breakouts. LovelySkin Customer
Verified Purchase
Very good Moisturizer
I have been using this product for my daughter since she was a baby. She is 3 years now. My dermatologist recommended this product to me. I am very happy with the product, and would say, its one of the best moisturizers available in the market today. I will continue using this product .... LovelySkin Customer
Verified Purchase
Doctor Recommended
My Dermatologist recommended this lotion as the best skin protector without a prescription. It is smooth, moisturizing, and odorless. For once, I concur with a physician! LovelySkin Customer
Verified Purchase
as expected - moisturizing
cerave is prob the best hydrating lotion out there. I bought it from lovelyskin b/c it was the cheapest with their 20% off, i think. Wierd thing is that I ordered 3 bottles, and 2 came in the old bottle shape and packaging, and one came in the newer packaging. Kind of wierd if you ask me, but they all seemed to have the same lotion. I guess they were burning through some old product. LovelySkin Customer
Verified Purchase
Best lotion for our family
Cerave Moisturizing Lotion can last longer moisturizing on our skin than other brand. This is the first choice moisturizing lotion I will recommend. LovelySkin Customer
Verified Purchase