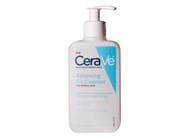 Reviews For
CeraVe Renewing SA Cleanser
Nice
This is a great cleanser with salicylic acid. It does an excellent job at removing makeup and exfoliating the skin. It may be too strong for those with sensitive skin. Effective, gentle cleanser
Every time I stray away from CeraVe products, I always end up coming back. This cleanser in particular, which contains salicylic acid and gentle cleansing agents, is great for sensitive skin. It removes makeup well and combats the oil on my face. I would say its a little drying, but oilier skin types will appreciate that. It doesnt irritate and its gentle enough for use morning and night. The only downside is the scent and the slightly thick gel consistency. However, the overall performance is impressive. Also works well as a body wash!