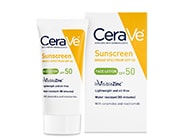 Reviews For
CeraVe Sunscreen Broad Spectrum SPF 50 Face Lotion
Will Do For Now.
This sunscreen absorbs quickly and creates a smooth base for foundation. I dont use primer on top of it. My issue with it is that my pores feel somewhat clogged by the end of the day, almost like my face isnt clean and needs to be scrubbed more than usual. Using this until I find something better. LovelySkin Customer
Verified Purchase
Great zinc-based sunscreen
I started using this product after exhaustively researching sunscreens. I have melasma so I need to wear sunscreen every day. I need to use enough to really cover my face, and my dermatologist recommended a zinc based sunscreen and many leave my face with a white cast. This is the best Ive tried. It goes on smoothly, absorbs quickly and if you rub it in well, does not look chalky. It does not irritate my sensitive skin or cause breakouts as some sunscreens do. I use it every day. The only thing keeping me from giving it 5 stars is that it literally smells like paint. The odor dissipates quickly but the first day I used it, I panicked and thought I had applied glue instead of sunscreen on my face. But, since the odor vanishes as soon as you rub it in, its not an issue for me. LOVE THIS!
This is the best Broad spectrum sunscreen ever. The zinc helps it absorb into your skin, so its easy to use with foundation or alone. I loved it this summer and it is now a staple in my AM routine. GREAT! LovelySkin Customer
Verified Purchase