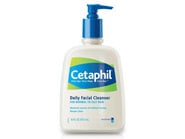 Reviews For
Cetaphil Daily Facial Cleanser for Normal to Oily Skin - 16 oz
I love this!
This cleanser is soooo gentle, I love everything about It, it leaves your skin feeling so soft, I just bought this and I can already tell a difference, I had a really bad thing on my face, my face was dry on my cheeks and it wouldn't moisturize, it was too dry and it wasn't feeling soft, I tried this and overnight it took it away! 10/10 recommend!!!:) nothing beats this cleanser!
I have been using this cleanser for six years. I have, obviously, tried different things but I always come back to it, and it its because it does the job and you cant beat the price! I have gone to 5 different dermatologists and every single one has recommended cetaphil! It cleans your face without making it feel tight or striped, it takes off makeup and most importantly it is gentle of sensitive acne-prone skin. When I wash my face I always do it two times to make sure I have super cleaned it. I use it in conjunction with their moisturizer, retain A or ziana during the night and ELTA MD sunscreen during the day. The simpler your skincare is, the better. With these products Ive mentioned my acne and hyper pigmentation have disappeared. NO COMPLAINTS AT ALL! VERY NICE GENTLE CLEANSER
leaves my skin so soft,not tight and dry like some cleansers,feels nice & moist & super clean.,always keep on hand,i like the dmaller size for travel also.