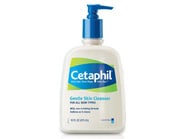 Reviews For
Cetaphil Gentle Skin Cleanser - 16 oz
Best Body Moisturizer
This is the very best moisturizer I have ever used. Leaves my skin feeling fresh and smooth. I use this during the summer months as it is light. I use the heavier cream from a jar during the winter. Cetaphil cannot be beat!!! Dermatologist recommended! LovelySkin Customer
Verified Purchase
Good drug store cleanser
This is very gentle and inexpensive cleanser for dry skin. It will dissolve your make up without drying or irritating your skin. Very good option on tight budget. Always great!
A must for dry and sensitive skin, it feels great and gently cleanses my face!!! I love the large size I can buy at LovelySkin!! LovelySkin Customer
Verified Purchase
Gentle on my skin!!
This is one of the only cleansers I have ever found that doesn't dry my skin out and/or make my face itch! Highly recommend for people with sensitive skin and allergies!! Not my cup of tea. . .
Its amazing what some people with oily, acne-prone skin can use without breaking them out. I know this is such a cult favorite, but I cant use it!The formula is super slippery, almost like lotion. It doesnt take off any of my makeup or oil, doesnt lather, and doesnt make my face feel clean or refreshed. It smells nice, but it contains irritating ingredients that others with sensitive skin will not appreciate. I can see it working as a body wash on super dry skin, but on my acneic facial skin, no way! Doesnt get my skin clean enough.
I just dont feel like this cleanses my skin. I wear a lot of makeup and prefer a foaming cleanser to this. So gentle
Gentle cleanser does not dry my skin at all LovelySkin Customer
Verified Purchase
dont get me wrong...
I LOVE the cetaphil line. it helped solve my eczema problem years ago and I still use it every day... but this product seemed to leave my face more oily than before I washed with it. Maybe its just my skin, but Im not a fan... definitely great for sensitive skin though. it did not irritate mine Excellent for soft water areas
Recently I moved to an area with very soft water and found that I needed to look into some new 'cleansers' that would rinse off easier. I was delighted to find Cetaphil works great with the soft water at removing make-up and grime without leaving any residue. So gentle on my skin that I can use both morning and night and my skin is not irritated. LovelySkin Customer
Verified Purchase
Feeling Soft and Soothing on Dry Skin
The cleanser gives feeling of soft and soothing especially on dry face. But it takes five or more applicationa and cleansing when you use vaseline/ petrolatum base emollient crm or even bacitracin ointment. That way it runs out too fast. LovelySkin Customer
Verified Purchase
Awesome
Recommended by my sons dermatologist it is the only thing that has helped with his cystic acne in conjuntion with Epiduo. He has used numerous cleansers and this one really is the best Great product
I use this to remove make up before I use one of my "treatment" cleansers. It works well The best cleanser
I've found Cetaphil to be the best cleanser, ever. It is all I use.