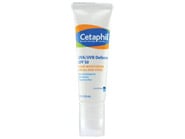 Reviews For
Cetaphil UVA/UVB Defense SPF 50 Facial Moisturizer
Not broad spectrum!
There are two things that bother me about this sunscreen: #1: It is a little too greasy for acne prone skin. #2: It is not broad spectrum. In order for a sunscreen to protect from both UVA and UVB rays, it must contain UVB-fighting sunscreen actives, and either zinc oxide of avobenzone as the UVA-fighting ingredient. Although this contains protection from UVA rays(which cause sunburn) it does not contain UVA-fighting ingredients(which cause skin cancer.)This product does not provide adequate sun protection from long-term sun damage. pleasantly surprized
Ive been using all of the higher priced am moisturizers for years now. Just for kicks I decided to go with one of the girls who took my order on line from LovelySkin's suggestion. I wanted a moisturizer w spf that wasnt thick, and was easy to spread. This is light, and the white goes away immediately after it is spread on the face and neck! I highly reccommend the product, and Im re-ordering it for myself today as well! What a great deal for the price!! LovelySkin Customer
Verified Purchase
awesome
great sunscreen and gentle enough for sensitive skin LovelySkin Customer
Verified Purchase
As effective as expensive ones!!!
The product is not expensive at all but it give as same effect as one of those expensive ones!!! It works as make-up base and has SPF50. Will continued to purchase it. LovelySkin Customer
Verified Purchase
Good Product
this is a good product if you are looking for something to wear when you go swimming or are sitting outside in the sun. However, if you are looking for something to waer as an everyday sunscreen option, this isn't for you. It tends to leave a white residue behind, but I believe it is a good sunscreen. I have been a Cetaphil devotee for years so I was slightly dissapointed with this sunscreen,