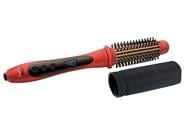 Reviews For
CHI AMPLITUDE Tourmaline Ceramic Heated 1.25" Round Brush
$89.99
Quick and easy
This curling brush heats up very fast. I love the adjustable heat option. LovelySkin Customer
Verified Purchase
heated round brush
This is an excellent heated round brush to smooth hair yet maintain volume and not flatten. It grabs the hair well and the temperature is adjustable. Great brand too- CHI. I highly recommend. Ms
I love my CHI AMPLITUDE Tourmaline Round Brush. I used to use argan oil after towel drying hair to help with my tangles, but now I don't have to apply the oil. After towel drying my hair, I blow dry it just to get it less damp, then I style with the tourmaline brush. It gives me volume, curls and it detangles my hair without any products. It stays soft and flowy all day. It doesn't dry out or burn my hair like curling irons do. Leaves my hair soft and manageable. Linda1020
Verified Purchase
CHI AMPLITUDE Tourmaline Ceramic Heated Round Brush
I have very fine hair and have tried other hot rollers to create volume, this by far has worked the best!! I like the temp control and extra long cord. Easy to use!! Would recommend! LovelySkin Customer
Verified Purchase
Great round brush
I like this more than a curling iron because the brush hold more hair naturally. I use thermo gloves, so I can hold the brush even better. Highly recommend, but it does take some time to get use to if all you have been using is a curling iron. I think it is a bit overpriced. princess62
Verified Purchase
Impressed
This heated round brush is great for adding shine and volume to your hair. I like to use it when my hair is still a little damp. Sometimes, I don't even bother using a hair dryer first. LovelySkin Customer
Verified Purchase
Chi Air
It is an excellent styling product, and I got it so quickly! LovelySkin Customer
Verified Purchase
AMPLITUDE Tourmaline Ceramic Heated 1.25" Rou
I like this brush because I can control the heat setting and it gives my hair volume. My hair looks fuller after using it, so I blow dry a bit first and then style with the heat brush. LovelySkin Customer
Verified Purchase