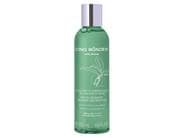 Reviews For
Cinq Mondes Phyto-Aromatic Shower & Bath Oil
$34.00
Heaven Scent
Luxurious lather with a soft fragrance that fills the senses. Leaves skin soft and lightly fragranced. A mini spa experience. I love this product and have used for years. It is also one of my favorite gifting items. Underwhelming
This brand sounded appealing due to the quality of the ingredients - essential oils and plant based colors. I selected this one due to the rose scent. However, there is absolutely no rose fragrance to this oil whatsoever. There is a VERY light ginger fragrance. Does not linger after bath at all. I did not find the oil to be moisturizing in any way either. So for an expensive bath oil, with the scent and the moisturizing benefit both entirely lacking this comes up as 1 star for me. Also, ordered the Bangalore Vanilla and Cardamom "scented" one as well. Did not smell like vanilla or cardamom. So this brand's bath oil hard pass for me. FloridaDancer
Verified Purchase
Perfect
Me and my husband love this oil shower! We have both our perfume. LovelySkin Customer
Verified Purchase