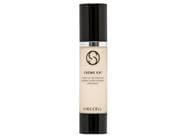 Reviews For
Circ-Cell Creme E.R.3
Circ Cell cream E.R.
I have been using this product for 3 years now. I can't live without it. My skin takes on a glow that turns back time. I love the fact that the cream is not greasy but moisturizes my face, so my makeup goes on smoothly. And, a little certainly goes along way. My skin is very dry at age 58, and I have not found any other product that does what Circ Cell Cream E. R. can do. I wish the price was less but will continue to buy!!! LovelySkin Customer
Verified Purchase
Great product!
I love this face cream : ) It goes on smoothly and feels wonderful on the skin. It's expensive, yes, but a little bit goes a long way, so in the long run is probably the better choice. One of the things I like most about the Circ-Cell creme is that my face fills moisturized when I put it on, but does not look or feel at all greasy. I had received a sample of Circ-Cell Creme with an order, tried it, and bought the full size product because I was so impressed with the sample. Try it and see for yourself! LovelySkin Customer
Verified Purchase
Circ-Cell E.R. 3
I have been using this cream, including samples, for a few weeks now. It is a great way to start out the day. I use it after I put on the "Dew" toner and before suncreen makeup. No breakouts or adverse reactions. It is really starting to make a difference. LovelySkin Customer
Verified Purchase