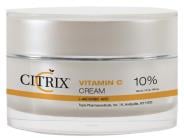 Reviews For
Citrix 10% Vitamin C Antioxidant Cream
Citrix 10% Vitamin C Antioxidant Cream
This is my must have cream for years. I use it every night in my facial routine, it leaves my skin very soft and radiant. LovelySkin Customer
Verified Purchase
Been using for over 20 years
I've been using the 10% solution since my dermatologist recommended it about 22 years ago. It's essentially a moisturizer for very oily skin that's prone to occasional breakouts. I've recently been at my mother's home and seeing ppl. I haven't seen in 20 yrs. They all say, "Wow, you haven''t aged." I didn't think about it until I began seeing people who looked a lot older. This product is one of 2 staples my derm gave me that I still use daily. The results must be from consistently using this. It's not cheap, but it's worth it. You don't need to use a lot and it lasts. I love this product and won't ever be without it. LovelySkin Customer
Verified Purchase
Nice product
Tried this product over 10 years ago at the suggestion of my dermatologist. Used for a few years and then moved on but recently came back and do really like the product. Nice feel, minimal irritation, good results. Nursesea
Verified Purchase
Great product
Ive been using this product for years as part of my daily moisturizing routine. I have sensitive skin and was introduced to this product original at my dermatologist office.Ive never had a bad reaction and I love the way my face feels using it. I am often complemented on my skin and I am almost 64 years old. LovelySkin Customer
Verified Purchase
Favorite Facial Product
I have been using this product for many years and have fouind that it has kept my skin smooth and in excellent condition. I am very fair skin and had some blemish problems when my dermotologist recommended this product to me. I have been very pleased with the results and it is a priority purchase for me. I would high recommend this product and have to friends of mine. LovelySkin Customer
Verified Purchase