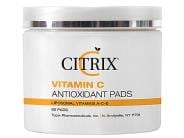 Reviews For
Citrix Antioxidant Cleansing Pads - 60 count
Wonderful for summer
I bought these to use as a light toner for the summer. I love the smell and the clean fresh feeling they leave. I use them both am and pm after my main cleansing. Very simple pad to tone and brighten skin. Bonus that they travel well! awesome
These clean really well--makeup, oil--and leave skin soft and refreshed! Refreshing
I use this in the morning after I cleanse my face. It feels very refreshing and has helped a little to brighten my skin. I just wish it was fragrance-free. But, otherwise, it is a great product. LovelySkin Customer
Verified Purchase
Great for on the go!
I've used these cleansing pads off and on for a couple of years now. The vitamin C gives them a citrus scent which is pleasant and they are a great on-the-go cleansing pad. I typically use them in the morning since I use a creamy cleanser at night to remove my makeup. They are also great for traveling or a quick cleanse after a workout. They help keep my skin bright and are a great substitute for a toner. My only complaint is that they are small and thin which doesn't lend to durability if you want to use it to remove makeup. It would be fine for removing eye makeup, but it takes 2-3 to remove a full face of makeup. I have very reactive/sensitive skin and am prone to cystic acne, but these little pads have been good to me without causing issues. LovelySkin Customer
Verified Purchase
Effective, Refreshing !
Great and easy to use. Place these in your gym bag or in the morning if not enough time, just use these pads. REFRESHING! Thank you, LovelySkin! LovelySkin Customer
Verified Purchase
great for exfoliation
These are great....the vitamin c burns your skin for a minute (I have really sensitive skin) but you can really tell it's working. LovelySkin Customer
Verified Purchase
So far so good....
Daily usage for about 2+ weeks sometimes 2x a day. I use after washing my face, skin is in good condition. I wanted to add a pad and liked the ingredients, price & so far I like no fragrance and the stickiness dries fast. LovelySkin Customer
Verified Purchase
Conserve water :)
Love these cleanser pads - I especially like to use them for quickly washing my face in the AM or in the evening after removing makeup with a drugstore brand face wipe. Sometimes its nice to not have to use any water at all! LovelySkin Customer
Verified Purchase
Love these CITRIX ANTIOXIDANT CLEANSING PADS!!
I have to admit...I have those nights and/or mornings when I am too tired or have to run out too quickly and dont make/have time to wash my face...enter these wonderful CITRIX ANTIOXIDANT CLEANSING PADS!!! They may look small- but, believe me- they can & should be used on both sides!! They truly clean my face!! And I love that they contain the protective antioxidants ( as well as a fresh, clean scent!)!!! I highly recommend!! LovelySkin Customer
Verified Purchase
Awesome
Got these pads as a freebie with another purchase. They are easy to use and work well, plus they are loaded with antioxidants. My favorite cleansing pad.
I use this before bed when I'm too tired to wash my face, and to freshen up my skin before applying new make-up when going out in the evening. It's so easy to carry, and perfect for travel. Plus the Vit. C! I have tried other pads and really like this one. LovelySkin Customer
Verified Purchase
amazing
I love these-- especially useful when you are just too tired to wash your face! I keep them by my bedside! LovelySkin Customer
Verified Purchase
My Favorite Cleansing Pad
Have used Citrix Cleansing Pads over a decade and love the genlte but effective cleansing they provide. LovelySkin Customer
Verified Purchase