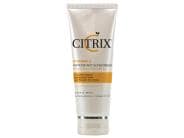 Reviews For
Citrix Antioxidant Sunscreen SPF 40
Outstanding Sunscreen
Citrix's antioxidant sunscreen is an outstanding sunscreen to me in that it has outstanding ingredients and provides outstanding moisture, both of which are important to providing protection against premature aging. I use this sunscreen on days that I use a vitamin c serum so that the serum and this vitamin C sunscreen work together—I alternate with a niacinamide combo and I'm happy with the results! LovelySkin Customer
Verified Purchase
A favorite, suggested by my dermatologist
I never want to be without this sunscreen! I use it daily on my hands and arms (use another on my face/neck). Why? Because I've lived for decades in Florida and now Texas. Not using sunblock for half my life and having 3 skin cancers removed, made me aware of how important it is to use sunscreen every day and to cover exposed areas carefully. I use this to protect both arms, the left arm gets special attention, due to daily driving. I'm careful to put plenty on and to replace it when I wash my hands during the day. oceans1720
Verified Purchase
Husband's Favorite Sunscreen!
Recommended by my daughter and now it's the only sunscreen my husband will use. He says it works more effectively than the sports formula he used to use. When he does sweat (playing golf) it doesn't run it to his eyes and sting, nor does it have that awful white glow other products seem to have. JJensen
Verified Purchase
Good, reliable SPF
I use a Citrix vitamin C moisturizer that I've used for 20 yrs. I just added this to my daily routine. It comes out of the tube white but goes on colorless, odorless, not oily, which is a big concern of mine as I break out with the slightest provocation. I don't feel it any more than anything else I put on my skin, and the concealer I wear occasionally just goes on over it as if I'm wearing nothing. I live in a generally sunny, humid area. It seems to work well. I want a dependable SPF, by a company I trust, that doesn't cost a lot. This fit the bill. I'd encourage others to buy it. LovelySkin Customer
Verified Purchase
Wonderful Sunscreen that is affordable
This sunscreen is very good for my sensitive, acne-prone skin. It did not cause any redness or breakouts, and I like it a lot. It does leave a little bit of a cast, but I do not sunburn. This sunscreen is much more affordable than the previous sunscreen I used-the price increases year over year. It is just as good as the more expensive one. And this doesn't have a scent either. LovelySkin Customer
Verified Purchase
Works for my rosacea
I find other proudest irritate my rosacea on my nose and this is very gentle, great coverage. LovelySkin Customer
Verified Purchase
Great everyday SPF moisturizer!
This is a great everyday SPF moisturizer that protects well from the sun, leaves no white cast and contains wonderful ingredients! It is also moisturizing which is rare for mineral sunscreens so works great if you have dry skin. LovelySkin Customer
Verified Purchase
Light Feel, Strong Sun Protection
I switched to Citrix Sunscreen after trying many other expensive product that didn't provide enough sun protection. I found Citrix to be a more reliable sunscreen that feels light and last longer than others I've tried. Other products either make me breakout or dry my face, Citrix is perfect, never causes problems with my skin. I've been very happy with this product. LovelySkin Customer
Verified Purchase
#1 sunscreen
I've tried other sunscreens yet I always return to using Citrix. It's got full coverage yet does not leave a chalking mask or settle into pores. Highly recommend. LovelySkin Customer
Verified Purchase
Beautiful Sun Protection
I've been using Citrix for about three years. Since I'm a long time Tretinoin user, my skin is sensitive. Citrix doesn't sting or burn my face or eyes the way most sunscreens do. It goes on looking white-ish but settles down in about 15 seconds, and I can barely notice it. Does not settle into facial lines. I use it instead of foundation, but I still use cover stick under my eyes. LovelySkin Customer
Verified Purchase
Great daily sunscreen for Retin A user
I use this as my daily sunscreen and I am a Retin A user. This sunscreen is great because it is easily rubbed in, very moisturizing, and offers good sun protection. It was recommended to me by my Derm. to use as part of my skin care routine as a Retin A user and I find it so moisturizing that I don't need an additional moisturizer in the AM. I am a contact wearer and it is gentle enough that it doesn't irritate my eyes and/or contacts. I really don't have a bad thing to say about this sunscreen and will continue to order it. LovelySkin Customer
Verified Purchase
Does the job
Citrix is one of my favorite everyday sunscreens. I use it on my neck, chest, arms and legs (if I'm wearing a dress). It has a light moisturizing base but isn't greasy. Citrix rubs in easily and completely. I have used it on my face and it is just fine for that but I prefer Elta Clear Tinted for a touch of color. LovelySkin Customer
Verified Purchase
Love
This is made by Topix I was using their other sunscreen Replenix(fav/luv) I loved that it didn't leave a white/ghostly tint on my tan WOC skin only con reading the ingredients I noticed isoparrifin=mineral oil I believe. The size/value & speedy free delivery huge +. Love this product!! LovelySkin Customer
Verified Purchase
Great Sun Protection
Provides excellent long-lasting, broad spectrum sun protection with antioxidants. Goes on like a white mask but absorbs well. It is heavier than I prefer for daily use under makeup, but is great for sports and for times when I cannot avoid extended sun exposure. A generous 3.5 ounces lasts a long time. LovelySkin Customer
Verified Purchase
LOVE
I loved this! I applied a generous amount and always thought that it wouldnt sink in, but it did and didnt leave a white cast. Great product. LovelySkin Customer
Verified Purchase
good water-resistant sunscreen
This stuff is a bit greasier than Elta MD UV Daily and UV Clear, and a bit greasier than Replenix SPF 50 (the one thats all Zinc Ox). I like this for when Im going to be sweating, and also when Im not going to be wearing makeup. LovelySkin Customer
Verified Purchase
My go to sunscreen.
This is my go to facial sunscreen. I even mix this with a BB cream that is too dark for me so that it matches my very fair skin tone. LovelySkin Customer
Verified Purchase
Love this product
I live in the south and am outside quite a bit. I love this product. It absorbs quickly and leaves my skin feeling soft and smooth while protecting it against the suns harmful rays. KarenMarie01
Verified Purchase
Nice sunscreen under makeup
I just wish it was all zinc but it is a good sunscreen under makeup for the winter months. Its not drying at all. LovelySkin Customer
Verified Purchase
Citrix review
Love this product. It goes on easily,soaks in, and can be used with make-up. LovelySkin Customer
Verified Purchase
sunscreen review
Good, substantial coverage. Easy to apply, non-greasy. LovelySkin Customer
Verified Purchase