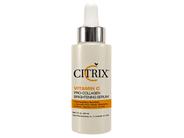 Reviews For
Citrix Vitamin C Pro-Collagen Brightening Serum
Everyday staple
My dermatologist recommends this product. It has been the 1st step in my skincare routine (after cleansing) for years. Unlike many Vitamin C products, this does not sting at all. LovelySkin Customer
Verified Purchase
I love this C
Love this. The texture is very unique. I am guessing the first ingredients are evaporative silicones because when you rub this into the skin it immediately is dry and feels like absolutely nothing on the skin. I love that it has L-AA as well as THDA vitamin C. 20% total but not irritating at all. Wears great under other skincare and makeup. No signs of oxidation at all. I will repurchase and I highly recommend you try it. Skin is glowing. LovelySkin Customer
Verified Purchase
The best Vitamin C!
I use this every morning after I apply my Replenix Pure Hydration Hyaluronic Acid Serum. Love the way it feels on my face, neck and hands. LovelySkin Customer
Verified Purchase
I love this product!
Light and not greasy at all. Very easy to layer under lotion ect. LovelySkin Customer
Verified Purchase
Such a fresh smell
I tried this Vit C because it came recommended from a friend who works in a dermatology office. I love the fresh smell and how it makes my skin bright and dewy. I alternate it with another Vit C and it gives my skin the perfect balance. Great product. A Citrix compliment
My dermatologist first introduced me to Citrix several years ago. Not only was it easy to apply but also had a pleasing light fragrance. After using it for a few months a good friend complimented me on my complexion and asked had I had something cosmetically done! I of course told her about Citrix and now she and a few other friends are also satisfied loyal users. It's such a comfort to know that there are still good options available as opposed to more expensive cosmetical procedures. LovelySkin Customer
Verified Purchase
A very good C Serum
This serum feels light, but slightly moisturizing. It sinks into skin well and does not leave a shiny, sticky feeling at all. I am using it under sunscreen in the morning. It has only been two weeks but I do think that my pores seem less visible and that my overall skin tone is improved. I break out easily and this does not seem to be aggravating my skin at all. Application is slightly tricky due to its liquid nature - my solution is to put a few drops in the palm of my hand and then dab it on to my face and massage in, that way you don't lose it running down your fingers! LovelySkin Customer
Verified Purchase
Citrix C
My husband noticed a difference in my looks. citrix vitamin c serum
Leaves my skin with a glowing texture. Pricey but worth it LovelySkin Customer
Verified Purchase
Great Buy!
I was looking for something with a decent price point since all of these serums can really add up. Citrix does not disappoint. It's very light and absorbs nicely into the skin. Every bit as good as some of the higher priced serums I've used. Gentle, effective, and leaves no residue
This product adopts a unique formula of different types of vitamin C and is gentle yet effective. When you apply it, at first it may feel kind of like oil, but soon the silicone evaporates and you can barely feel anything on your face. Perfect as a daytime antioxidant. Love this product
This made a big difference in my skin. I have dry skin and Citrix added hydration and softness with a glow! LovelySkin Customer
Verified Purchase
This is another favorite
I use it with the peel, and my dark spots are barely there, almost invisible! I'm 51 years old and use to be always in the sun, now I'm suffering with dark spots. But this helps erase all that! LovelySkin Customer
Verified Purchase
Didn't do anything
I tried Citrix Vitamin C Pro-Collagen brightening serum for over a year and didn't notice any difference at all in my skin texture or brightness. Wrinkles still there as well as dryness and sagging. LovelySkin Customer
Verified Purchase
My favorite :)
I have tried a bunch of different Vitamin C serums, and this beats out the more expensive options. This serum makes my skin glow it is both effective and a wonderful primer for makeup. Will continue to buy for years to come. LovelySkin Customer
Verified Purchase
nice vitamin serum
Gentle and easy to use. Feels great. Good value. LovelySkin Customer
Verified Purchase
I love this product!
I've been using Citrix Vitamin C serum for about a year now and love it. My skin feels so much more bright and even. I feel better without any makeup on than I have in years. I drop the liquid from the dropper into my palm and then put it on my face and neck with my finger. What's left on my palm, I also put in the other palm (by patting hands together) and rub the serum on the tops of my hands. Even they look more even! LovelySkin Customer
Verified Purchase
Citrix Vitamin C serum MAGIC
I have been using the Citrix Vitamin C Pro-Collagen Brightening Serum for the past year and I have to say it is my favorite product within my robust regimen. I use it in the mornings 4-5 days a week and I instantly look bright and dewy. I love that right away the serum brings a nice rosy blush to my cheeks. My husband even loves the product because it makes his skin look so clear. I will say that if I over use it more than the 4-5 mornings I get slightly dry and peeling skin but this is normal with Vitamin C. I highly recommend this product and have referred quite a few of my friends to start using it as well. LovelySkin Customer
Verified Purchase
Love the scent and feel of this product.
Fresh clean scent, not cheap perfume scent at all. Very moisturizing and smooths over face wonderfully. You only need a tiny amount. No stinging at all. Men can use this also after shaving for moisture. Love this product! Not sure that the Vit C is strong enough in this product but due to moisturizing, clean scent, and little needed over face and neck will continue to purchase. LovelySkin Customer
Verified Purchase
Noticeable results within a couple weeks --and doubles as a primer!
Have been using this product almost everyday for the past couple of weeks under make-up and have seen a noticeable reduction in post-acne discoloration and improvement in even skin tone. An additional bonus --the silky finish of this product makes a nice primer for foundation. LovelySkin Customer
Verified Purchase
Amazing results
Sun spots GONE!!!!! Yes it's that good! I use it on my face and my arm! This is a must have. LovelySkin Customer
Verified Purchase
Vitamin C
Vitamin C is the secret to beautiful, flawless skin. Citrix has made this product extremely absorbable. It helps minimize small lines and wrinkles. A very good return for your money. I've tried many C products and really like this one best. LovelySkin Customer
Verified Purchase
Like the serum but not the applicator
I ordered this after using the sample. I like the lightness of the serum and it has helped fade some of the dark spots on my face. I am disappointed with the applicator though. I follow the instructions but no matter how careful I am, the serum squirts on my counter, floor, and/or me. As expensive as this is, you would think it would be easier to apply and not make a mess. LovelySkin Customer
Verified Purchase
CITRIX VITAMIN C PRO-COLLAGEN BRIGHTENING SERUM
I use it for myself and my daughter. We have blemish problem. It is working with my daughter than me wonderfully. It is quiet expensive though. LovelySkin Customer
Verified Purchase
Light texture, easily absorbed
I love the texture of this serum. Its very thin and light and feels wonderful on the skin. Hydrating and easily absorbed. LovelySkin Customer
Verified Purchase