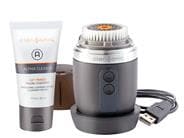 Reviews For
Clarisonic Alpha Fit Sonic Cleansing System for Men
Best seller - for a reason
My boyfriend has a pretty heavy beard and every now and then he will breakout (he has oily skin). This brush is amazing at reducing his pores and keeping those breakouts in check. It reaches far further than whatever you can clean with just your own hands (again, especially if you have a beard). Best seller for a reason, every guy should have it! LovelySkin Customer
Verified Purchase
Phenomenal value!
Hurry & buy this before they sell out! The best gift for any man of any age! Really polished my hubbie's skin & he has a HEAVY, THICK beard! I'm so glad he's benefiting from LovelySkin, too! Makes me feel great about investing in our complexions! LovelySkin Customer
Verified Purchase
I Love This Thing!
I have used it with the product included, and my own Jack Black, and although I have been taking care of my face for the last 37 years, I didnt know what I was missing. My father put the fear of God in me long ago about washing my face. He took me to the dermatologist with my older sisters. I never saw one, but he made me go in the room with them and watch. He would just look at me and say, "You see what happens if you dont wash your face." My son and I are both using it. LovelySkin Customer
Verified Purchase