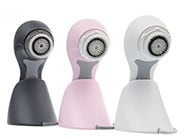 Reviews For
Clarisonic Classic Sonic Skin Cleansing System
love it
I've had my clarisonic for 2 years now & I love it. I recommend it to all my friends & family. LovelySkin Customer
Verified Purchase
Works well
This product works well but you have to be really careful with sensitive skin. Do not exceede the recommended time, and use the brush for sensitive skin if needed. It cleans your face very well, so your products can be absorbed better, I can only use it every other night. Best invention since electric toothbrush
A must have for anyone who cares about their skin! Effectively cleans and exfoliates. Skin feels very soft and clean. Have recommended it to many friends and family members. My Face Feels So Very Clean
After using this product for about a month, I find my face feels smoother, healthier and cleaner. I have no negative comments about it. I definitely recommend it. LovelySkin Customer
Verified Purchase
A Great addition to your skin care regimen!
I typically wash my face with different products, in different ways, each day. Sometimes I'll use a scrub, sometimes a mask, and sometimes the Clairsonic brush. On the days I use the brush, my face definitely feels softer and smoother! Maybe all the stuff I use is working together; I just know that it's working! highly recommend
I first experienced the clarisonic system while at a Golden Door Spa. I was sold. I purchased the system and have really enjoyed the results. I have rosacia and oily skin. The results have been worth the investment. My skin is clearer and smoother than ever.