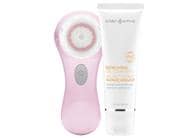 Reviews For
Clarisonic Mia 1 Skin Perfecting Starter Gift Set - Limited Edition
Great exfoliator–LOVE MY MIA
I own 2 of the MIA 1. I purchased this one for my daughter, and she absolutely loves it. Really deep cleans the pores. I use my MIA 3 days a week. LovelySkin Customer
Verified Purchase
Mini Clarisonic
I bought this because I'm using Nu-Derm system from Obagi, and my face was peeling. It's totally helped slough all that off in an effective but gentle way, no irritation. I feel also now my products are penetrating deeper! I love the size and the charging magnetic mechanism! It's perfect for traveling and no bulky base to have to worry about! Love this so much! LovelySkin Customer
Verified Purchase
A Must Have Skin Care Tool
I used this for years and stopped. I noticed my skin isn't as clear and glowing so I decided to start using it again. So far so good! Love Love Love
I got this product as a Christmas present from a friend, and it is the most amazing thing ever. They have a soft brush and a deep exfoliation brush. The deep one is a little too rough on my skin but the soft one feels so nice. Every time I use it, it's so refreshing and leaves me waiting until I get to use it again. Plus, your skin feels so soft and looks so radiant, and the soap it comes with is so light and sudsy and has the most clean refreshing smell.