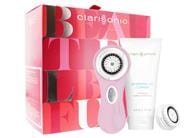 Reviews For
Clarisonic Mia 2 Cleansing Gift Set - Limited Edition
Overuse causes burst veins
I like the feel of this brush and the appearance of the skin after but if you use it too much or too aggressively it can cause small veins (capillaries) to become more visible, or for existing ones to break. JenGeogeek
Verified Purchase
Feels great
Love the clarisonic! My face feels so much cleaner. Dry skin gone. My sons breakouts have really improved. The cleanser that came with the set smells wonderful. Would definitely recommend LovelySkin Customer
Verified Purchase
what a difference
This has exceeded my expectations. My skin feels so much cleaner and smooth after using the Clarisonic Mia 2. Definitely recommend! LovelySkin Customer
Verified Purchase
Love me some Clarisonic scrub!
So happy with my new Clarisonic 2! Love the way it makes my skin feel. It has 2 settings, which is nice. It cleanses my skin perfectly and gets rid of that extra dirt that regular washing leaves behind. It smooths out my skin and gives me that beautiful glow! I love this product! Clean!
I've been using the Clarisonic Mia 2 for a couple of years now. It works very well. It helps my skin get extra clean from dirt and makeup and it helps with exfoliation as well. I've been using it for so long that it has become part of my routine, a habit that I don't think about a lot. Then I ran out of brush heads last month (a using have some extras stocked up for when I need to change the head). The heads I wanted were on back-order, which was no big deal, I planned to just use my regular cleanser and wash my face in the traditional manner. So after about 5 days I noticed that I was getting little acne bumps all over my face and that my pores appeared larger. My complexion also looked dull. I was looking haggard. It really surprised me that my Mia could have been making that much of a difference. Once I got my new brush head and was able to use my Clarisonic again, my skin looked better that very day. I used it in the morning after i'd cleaned my face the traditional way the night before. The dirt and makeup on the brush head showed just how much I'd been missing without it. (When I use it routinely, there isn't that much dirt and oil buildup overnight.) My skin was immediately brighter and in a few days the dullness and bumps on my face cleared up. Just a note: it's important that you clean off the brush head after you use it so it doesn't harbor dirt and bacteria. I use body was and high water pressure to do it but there may be a better way. The battery charge lasts about a week or two with twice daily use. The Clarisonic Mia has become an essential basic in my skin care regimen. It is worth the cost. It's a high quality device and it lasts. LovelySkin Customer
Verified Purchase
Clarisonic Mia - had same one for 5 years still going strong
Love this product. Just bought one for my sister. I've been using it for years and it cleanses the skin perfectly for serum application. Just wash with hands and then again with clarisonic and see how much make up is actually missed. 5 star product! LovelySkin Customer
Verified Purchase